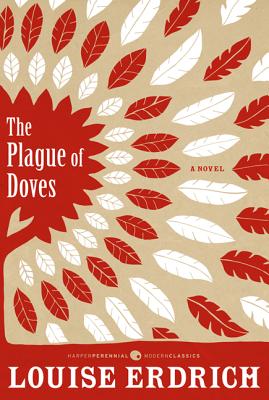 Plague of Doves: Deluxe Modern Classic (Harper Perennial Deluxe Editions)
Publication Date:
April 30th, 2013
Publisher:
Harper Perennial Modern Classics
Usually Ships in 1 to 5 Days
Louise Erdrich's latest spans a century in the small town of Pluto, North Dakota. It begins with a murder and a wrongful lynching, and then follows the descendants of those involved. The Plague of Doves showcases her trademark blend of pathos, comedy, magical realism, and epic narration, and it's a novel I will read again just to admire the skill with which all the pieces of the puzzle gently fall into place. Highly recommended.
Spring/Summer '09 Reading Group List
Louise Erdrich's complex history of the families in a North Dakota, mixed-blood, reservation town reveals its secrets slowly through the unique voices of the community. These characters require us to pay attention and move from psychological and philosophical musing to delightful storytelling full of magic and intrigue. Thoroughly enjoyable.
Indie Next List Highlights 2008
Description
A finalist for the Pulitzer Prize, The Plague of Doves—the first part of a loose trilogy that includes the National Book Award-winning The Round House and LaRose—is a gripping novel about a long-unsolved crime in a small North Dakota town and how, years later, the consequences are still being felt by the community and a nearby Native American reservation.
Though generations have passed, the town of Pluto continues to be haunted by the murder of a farm family. Evelina Harp—part Ojibwe, part white—is an ambitious young girl whose grandfather, a repository of family and tribal history, harbors knowledge of the violent past. And Judge Antone Bazil Coutts, who bears witness, understands the weight of historical injustice better than anyone. Through the distinct and winning voices of three unforgettable narrators, the collective stories of two interwoven communities ultimately come together to reveal a final wrenching truth.
Master storyteller Louise Erdrich delves into the fraught waters of historical injustice and the impact of secrets kept too long.
This gorgeous Harper Perennial Deluxe Edition features French flaps and deckle-edge pages, making it the perfect gift book for fans of Louise Erdrich.
Praise for Plague of Doves: Deluxe Modern Classic (Harper Perennial Deluxe Editions)
"[Erdrich's] accomplishment in these pages is Tolstoy-like: to render human particularity so meticulously and with such fierce passion as to convey the great, glittering movement of time." — San Francisco Chronicle
"Writing in prose that combines the magical sleight of hand of Gabriel García Márquez with the earthy, American rhythms of Faulkner...[Ms. Erdrich] has written what is arguably her most ambitious—and in many ways, her most deeply affecting—work yet." — Michiko Kakutani, New York Times
"An intricate tale of heartbreak and humor . . . wondrous novel. . . . What marks these stories . . . .is what has always set Erdrich apart and made her work seem miraculous: the jostling of pathos and comedy. . . .Sit down and listen carefully." — Washington Post Book World
"Wholly felt and exquisitely rendered tales of memory and magic...an intricate tapestry that deeply satisfies the mind, the heart, and the spirit." — Pam Houston, O, The Oprah Magazine
"The stories told by [Erdrich's] characters offer pleasures of language, of humor, of sheer narrative momentum, that shine even in the darkest moments of the book." — Boston Globe
"Erdrich deftly weaves past and present, and her literary territory is as intricate as Faulkner's Yoknapatawpha County." — MORE Magazine
"One can only marvel...at Erdrich's amazing ability to do what so few of us can – shape words into phrases and sentences of incomparable beauty that, then, pour forth a mesmerizing story." — USA Today
"Mesmerizing… Erdrich ...communicate[s] the complexity and the mystery of human relationships." — Booklist (starred review)
"To read Louise Erdrich's thunderous new novel is to leap headlong into the fiery imagination of a master storyteller...a rich, colorful mosaic of tales that twist and turn for decades..." — Miami Herald
"Erdrich has demonstrated a rare ability to create vibrant, wholly original characters and to describe nature in a prose so lyrical it becomes poetry. 'The Plague of Doves' is proof that she has yet to exhaust her powerful magic." — Hartford Courant
"...at once mythic and down-to-earth...beautiful, funny, moving, and unexpected." — Elle
"Erdrich's latest novel...is so natural you forget there's a writer behind it...Instantly gripping..." — Marie Claire
"Erdrich is in top form here..." — Time Out New York
"A multigenerational tour de force of sin, redemption, murder and vengeance" — Publishers Weekly (starred review)
"A lush, multilayered book…The magic lies in the details of Erdrich's ever-replenishing mythology." — Kirkus Reviews
"Louise Erdrich's imaginative freedom has reached its zenith—The Plague of Doves is her dazzling masterpiece." — Philip Roth