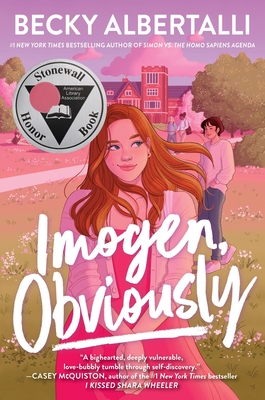 Imogen, Obviously
Publication Date:
May 2nd, 2023
Usually Ships in 1 to 5 Days
Only Becky Albertalli can manage to combine the white-hot debate about who belongs in queer spaces with a sweet story about young folks who like each other a whole lot. She strikes an incredible balance here; I can't wait to sell this!
May/June 2023 Kids' Indie Next List
Description
A New York Times and Indie bestseller!
With humor and insight, #1 New York Times bestseller Becky Albertalli explores the nuances of sexuality, identity, and friendship in this timely new novel.
Imogen Scott may be hopelessly heterosexual, but she's got the World's Greatest Ally title locked down.
She's never missed a Pride Alliance meeting. She knows more about queer media discourse than her very queer little sister. She even has two queer best friends. There's Gretchen, a fellow high school senior, who helps keep Imogen's biases in check. And then there's Lili—newly out and newly thriving with a cool new squad of queer college friends.
Imogen's thrilled for Lili. Any ally would be. And now that she's finally visiting Lili on campus, she's bringing her ally A game. Any support Lili needs, Imogen's all in.
Even if that means bending the truth, just a little.
Like when Lili drops a tiny queer bombshell: she's told all her college friends that Imogen and Lili used to date. And none of them know that Imogen is a raging hetero—not even Lili's best friend, Tessa.
Of course, the more time Imogen spends with chaotic, freckle-faced Tessa, the more she starts to wonder if her truth was ever all that straight to begin with. . .
Praise for Imogen, Obviously
"Insightful prose teems with compassionate interrogations of the harms of compulsory heterosexuality and societally prescribed narratives. Via Imogen's wryly funny first-person narration, Albertalli crafts a striking portrait of one teenager's experience navigating sexual fluidity and the sometimes overwhelming fear of reinventing oneself." — Publishers Weekly (starred review)
"Albertalli lays out the complicated and beautiful layers that come with accepting personal change and having the courage to take an honest look at oneself. A masterpiece that will be cherished by anyone who has felt they might not belong." — Booklist (starred review)
"Imogen's journey feels authentic and sincere, and readers will find it difficult not to fall for her….Fresh, endearing, and heartfelt." — Kirkus Reviews (starred review)
"The plot of this novel is well-paced and entertaining... secondary characters are fleshed out, fully formed individuals with diverse queer and racial identities, and the relationships are full of humor and compassion. Imogen is a complex character with a distinct voice, and her story of grappling with her identity during this transitional period of life will resonate. An excellent addition to collections for teens."
— School Library Journal (starred review)
"Bestselling author Becky Albertalli's latest novel offers a gentle, hilarious and authentic look at figuring out who you are on your own timeline. [It's] nearly impossible for the reader not to love Imogen." — BookPage (starred review)
"A sparkling romance and a moving account of a young woman's very contemporary bisexual awakening. Imogen, Obviously is a deeply personal novel about queerness in all its colorful complexity and a rallying cry to 'hold space for variation' in the LGBTQ+ community." — Shelf Awareness (starred review)
"Plenty of witty banter—and a sweet romance—lighten a novel that's full of introspection and that validates not only a variety of identities but also individuals' paces for figuring them out." — Horn Book
"Drawn from Albertalli's experience with coming out, this novel offers an endearing story of one teen's struggle for self-acceptance. A sure hit with Albertalli's existing fans, this is likely to win her more in those who want a thought-provoking take on how sometimes what you want is more obvious to your heart than to your head." — Bulletin of the Center for Children's Books
"Imogen, Obviously is perhaps Albertalli's best book yet, with an introspective look at how identity can shift and an engaging love story." — Buzzfeed
"Imogen, Obviously serves as a reminder that you matter, that you are valid, and that you are queer enough, no matter what others try to tell you. A love letter to finding your place in your own pace, the joy of queer found family, and the messy, chaotic journey of life, Imogen is sure to become your new best friend." — The Nerd Daily
"This one's for the girls with anxiety, for the chronic people pleasers, for anyone who worries if they're trying too hard or not hard enough, for the ones still figuring it out. A lot of people will recognize themselves in Imogen. A big-hearted, deeply vulnerable, love-bubbly tumble through self-discovery." — Casey McQuiston, author of #1 New York Times bestselling I Kissed Shara Wheeler