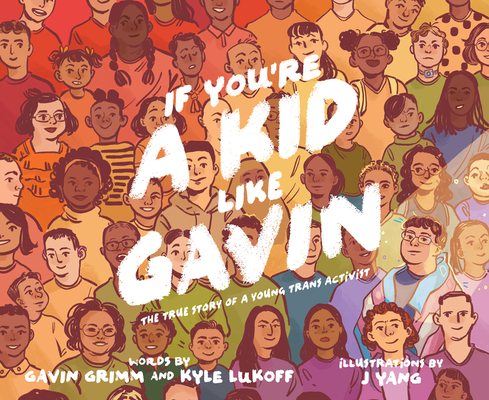 If You're a Kid Like Gavin: The True Story of a Young Trans Activist
Publication Date:
July 12th, 2022
Publisher:
Katherine Tegen Books
Usually Ships in 1 to 5 Days
Description
A celebratory and empowering story from young trans activist Gavin Grimm, two-time Stonewall Award-winning and Newbery Honor-winning author Kyle Lukoff, and illustrator J Yang follows the true story of how a young boy stood up for himself—and made history along the way.  A Publishers Weekly and Kirkus Best Book of the Year!
When you're a kid like Gavin Grimm, you know yourself best. And Gavin knew that he was a boy—even if others saw him as a girl. But when his school took away his right to something as simple as using the boy's restroom, Gavin knew he had a big decision to make.
Because there are always more choices than the ones others give you.
Gavin chose to correct others when they got his pronouns wrong. He asked to be respected. He stood up for himself. Gavin proved that his school had violated his constitutional rights and had the Supreme Court uphold his case—bringing about a historic win for trans rights. There are many kids out there, some just like Gavin Grimm, and they might even be you.
What choices will you make?
Praise for If You're a Kid Like Gavin: The True Story of a Young Trans Activist
"A beautiful, harmonious story that deftly documents Gavin's fight and explains why trans right are basic human rights. There's no choice here. Buy it!" — Kirkus Reviews (starred review)
"Activist Grimm and author Lukoff's voices blend powerfully in this autobiographical picture book. Crucially, readers can connect with the text both as people 'like Gavin' and people who, 'like Gavin,' understand that everyone has the right to be themselves." — Publishers Weekly (starred review)
"This true story of courage and resiliency is sure to inspire young advocates everywhere." — The Horn Book
"All kids should be challenged to think about the message of standing up and fighting for what is right. Here is a worthy discussion-starter on an important topic for all collections." — School Library Journal
"Gavin's journey encourages young readers to ask questions, challenge assumptions and take action in order to change the world." — Duncan Tonatiuh, winner of the Pura Belpré Medal and the Jane Addams Children's Book Award
"A movingly told, brilliantly illustrated book about the power and humanity of trans kids. I wish I'd had this book growing up, and I'm so very grateful it's here now." — Andrea Tsurumi, creator of Crab Cake and I'm On It!
"Important for its fostering of empathy, representation, and spotlighting Gavin as a role model for any kid wanting to effect change. Hopeful, empowering. " — Booklist
Praise for Call Me Max: "A welcome title for classrooms, libraries, and PFLAG and other support organizations' collections." — School Library Journal
Praise for When Aidan Became a Brother: "A much-needed and appealing addition to the picture book canon; both emotionally and visually satisfying." — School Library Journal
"This picture book sets a new standard of excellence in transgender representation by centering the feelings of Aidan, a biracial (black and South Asian) transgender boy. Joyful and affirming, Aidan's story is the first of its kind among books for welcoming a new baby."  — Kirkus Reviews (starred review)
"Lukoff writes with sensitivity and candor as Aidan takes his first steps toward claiming his identity. The creators' exploration of one transgender child's experience emphasizes the importance of learning "how to love someone for exactly who they are."  — Publishers Weekly (starred review)
"Together, the text and pictures create a heartfelt celebration of love that will be an ideal selection for trans children and for any who are expecting a new sibling."  — Booklist (starred review)