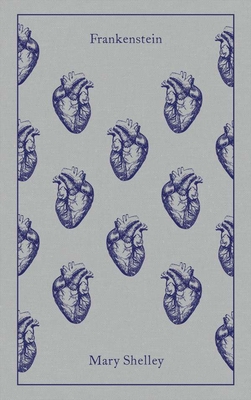 Frankenstein (Penguin Clothbound Classics)
Publication Date:
September 30th, 2014
Publisher:
Penguin Classics
Usually Ships in 1 to 5 Days
Description
Nominated as one of America's best-loved novels by PBS's The Great American Read
A stunning new clothbound edition of Mary Shelley's infamous work of horror fiction, designed by the award-winning Coralie Bickford-Smith. These delectable and collectible Penguin editions are bound in high-quality colourful, tactile cloth with foil stamped into the design Obsessed by creating life itself, Victor Frankenstein plunders graveyards for the material to fashion a new being, which he shocks into life by electricity. But his botched creature, rejected by Frankenstein and denied human companionship, sets out to destroy his maker and all that he holds dear. This chilling gothic tale, begun when Mary Shelley was just nineteen years old, would become the world's most famous work of horror fiction, and remains a devastating exploration of the limits of human creativity. This edition also includes 'A Fragment' by Lord Byron and 'The Vampyre: A Tale' by John Polidori, as well as an introduction and notes Mary Shelley (1797-1851), the daughter of pioneering thinkers Mary Wollstonecraft and William Godwin, eloped with the poet Percy Shelley at the age of sixteen. Three years later, during a wet summer on Lake Geneva, Shelley famously wrote her masterpiece, Frankenstein. The years of her marriage were blighted by the deaths of three of her four children, and further tragedy followed in 1822, when Percy Shelley drowned in Italy. Following his death, Mary Shelley returned to England and continued to travel and write until her own death at the age of fifty-three.
Praise for Frankenstein (Penguin Clothbound Classics)
Mary Shelley's Frankenstein is one of the masterpieces of nineteenth-century Gothicism. While stay-ing in the Swiss Alps in 1816 with her lover Percy Shelley, Lord Byron, and others, Mary, then eighteen, began to concoct the story of Dr. Victor Frankenstein and the monster he brings to life by electricity. Written in a time of great personal tragedy, it is a subversive and morbid story warning against the dehumanization of art and the corrupting influence of science. Packed with allusions and literary references, it is also one of the best thrillers ever written. Frankenstein; Or, the Modern Prometheus was an instant bestseller on publication in 1818. The prototype of the science fiction novel, it has spawned countless imitations and adaptations but retains its original power.
This Modern Library edition includes a new Introduction by Wendy Steiner, the chair of the English department at the University of Pennsylvania and author of The Scandal of Pleasure.
Mary Shelley was born Mary Wollstonecraft Godwin in 1797 in London. She eloped to France with Shelley, whom she married in 1816. After Frankenstein, she wrote several novels, including Valperga and Falkner, and edited editions of the poetry of Shelley, who had died in 1822. Mary Shelley died in London in 1851.