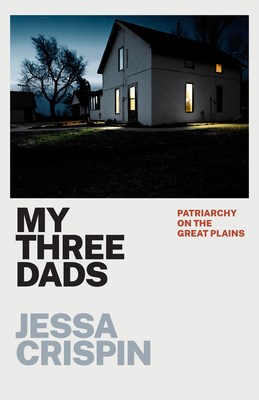 My Three Dads: Patriarchy on the Great Plains
Publication Date:
August 16th, 2022
Publisher:
University of Chicago Press
Usually Ships in 1 to 5 Days
Description
Sharp and thought-provoking, this memoir-meets-cultural criticism upends the romanticism of the Great Plains and the patriarchy at the core of its ideals.
 
For many Americans, Kansas represents a vision of Midwestern life that is good and wholesome and evokes the American ideals of god, home, and country. But for those like Jessa Crispin who have grown up in Kansas,  the realities are much harsher. She argues that the Midwestern values we cling to cover up a long history of oppression and control over Native Americans, women, and the economically disadvantaged.
Blending personal narrative with social commentary, Crispin meditates on why the American Midwest still enjoys an esteemed position in our country's mythic self-image. Ranging from The Wizard of Oz to race, from chastity to rape, from radical militias and recent terrorist plots to Utopian communities, My Three Dads opens on a comic scene in a Kansas rent house the author shares with a (masculine) ghost. This prompts Crispin to think about her intellectual fathers, her spiritual fathers, and her literal fathers. She is curious to understand what she has learned from them and what she needs to unlearn about how a person should be in a family, as a citizen, and as a child of god—ideals, Crispin argues, that have been established and reproduced in service to hierarchy, oppression, and wealth.
 
Written in Crispin's well-honed voice—smart, assured, comfortable with darkness—My Three Dads offers a kind of bleak redemption, the insight that no matter where you go, no matter how far from home you roam, the place you came from is always with you, "like it or not."
 
Praise for My Three Dads: Patriarchy on the Great Plains
"Wry, serious, and searching."
— New York Review of Books
"Blends personal memoir with cultural criticism to explore the ghosts that haunt not only her rental house, but also her head, the city streets, American classrooms, and presidential debates. . . . Crispin may be primarily concerned with the Midwest, but its history, she argues, belongs just as much to the coasts, even if people from those regions try to distance themselves from it. . . . My Three Dads drills down on and picks apart these opinions, offering a concentrated look at a divided white America."
— Nation
"The reward of reading Crispin's book is commiseration, sharing her shame at wanting to want something different, but sometimes just wanting."
— Bookforum
"Crispin's erudite analysis and biting wit make this multifaceted history unmissable. Searing and intelligent, this delivers on all counts."
— Publishers Weekly, starred review
"By challenging a host of societal assumptions about family, identity, gender, religion, and politics, the author upends an array of notions about American exceptionalism. A fascinating and engaging cultural study."
— Kirkus, starred review
"Crispin provides a much-needed counternarrative for the fictions of the Midwest that perpetuate and continue to engender an American cultural mythology that conceals harsh realities of colonialism, oppression, and patriarchalism, which together have led to undiscussed problems related to economic disadvantages, abuse, and stigma. . . .A powerful, provocative narrative, designed to remind readers that it is often silence that empowers oppression, allowing it the power to endure in unchallenged ways."
— Library Journal
"My Three Dads is challenging in its assessment of American life—a personal story that's conveyed with piercing humor, sharp details, and whirlwinds of intelligent, expansive prose."
— Foreword