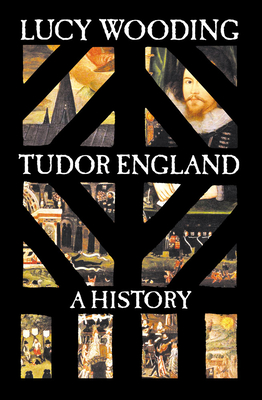 Tudor England: A History
Publication Date:
January 3rd, 2023
Publisher:
Yale University Press
Usually Ships in 1 to 5 Days
Description
A compelling, authoritative account of the brilliant, conflicted, visionary world of Tudor England
 
When Henry VII landed in a secluded bay in a far corner of Wales, it seemed inconceivable that this outsider could ever be king of England. Yet he and his descendants became some of England's most unforgettable rulers, and gave their name to an age. The story of the Tudor monarchs is as astounding as it was unexpected, but it was not the only one unfolding between 1485 and 1603.
 
In cities, towns, and villages, families and communities lived their lives through times of great upheaval. In this comprehensive new history, Lucy Wooding lets their voices speak, exploring not just how monarchs ruled but also how men and women thought, wrote, lived, and died. We see a monarchy under strain, religion in crisis, a population contending with war, rebellion, plague, and poverty. Remarkable in its range and depth, Tudor England explores the many tensions of these turbulent years and presents a markedly different picture from the one we thought we knew.
Praise for Tudor England: A History
"[Wooding] writes clear, elegant, purposeful narrative. . . . Anecdote and oddity leap off every page, often slyly juxtaposed. . . . This wide-ranging and punchy book approaches Tudor history from the ground up. It's a classic in the making."—Dan Jones, Times (UK)
"Generous, heroic history—populist rather than popular—that will shake up long-held views. . . . Tudor England is so well-cited that it's easy to recommend to someone trying to get up to speed with current historical debates, but it's also far from dry—liberally scattered with grisly tales and memorable digressions into everything from gardening to the theatres."—Daniel Brooks, Daily Telegraph
"Lucy Wooding offers a new perspective on the period—a treasure chest of real people enduring war, poverty, chaos and contagion. Fascinating characters are crowded into a narrative of superb dramatic pace. Do we need yet another Tudor history? Yes, apparently we do."—Times (UK), "Best History Books of 2022"
"Offers a comprehensive, authoritative, up-to-date account of the Tudor monarchs and the England they governed. Throughout it provides a sense of what it would have felt like to live through the many tumultuous changes of the period; and its combination of broad sweep and with vivid stories and snapshots will reward scholars, students and general readers alike."—Helen Hackett, Times Literary Supplement
"Deftly fusing social, religious and political history, Tudor England is an outstanding achievement. Drawing on the latest scholarship, Wooding reappraises the reigns of the five Tudor monarchs, as well as assessing the times in which they lived. Essential reading for students and everyone interested in this most fascinating of dynasties."—Elizabeth Norton, author of The Lives of Tudor Women
"Beautifully written . . . a deeply humane text, in which so many contemporary voices are given a sympathetic hearing, whilst also making a significant contribution to the field."—Ian Archer, University of Oxford
"Impressive and authoritative, combining narrative panache with rigorous new research to give us a new perspective on one of the most controversial and critical English dynasties. It is the reassessment we needed. . . . A treasure trove, exploring Tudor history from every angle."—Joanne Paul, author of The House of Dudley
"A brilliant sketch of political, religious and social change under the Tudor Monarchs. Wooding weaves many a striking detail into a compelling account of complex events and developments."—George Bernard, author of Who Ruled Tudor England?