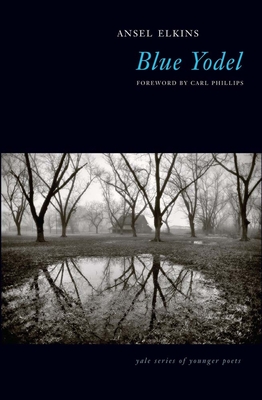 Blue Yodel (Yale Series of Younger Poets #109)
Publication Date:
March 31st, 2015
Publisher:
Yale University Press
Description
Winner of the 2014 Yale Series of Younger Poets prize
 
Originated in 1919 to showcase the works of exceptional American poets under the age of forty, the Yale Series of Younger Poets prize is the oldest annual literary award presented in the United States. Ansel Elkins's poetry collection, Blue Yodel, is the 109th volume to be so honored. Esteemed poet and competition judge Carl Phillips praises Elkins for her "arresting use of persona," calling her poems "razor-edged in their intelligence, Southern Gothic in their sensibility."
 
In her imaginative and haunting debut collection, Elkins introduces readers to a multitude of characters whose "otherness" has condemned them to live on the margins of society. She weaves blues, ballads, folklore, and storytelling into an intricate tapestry that depicts the violence, poverty, and loneliness of the Deep South, as well as the compassion, generosity, and hope that brings light to people in their darkest times. The blue yodel heard throughout this diverse compilation is a raw, primal, deeply felt expression of the human experience, calling on us to reach out to the isolated and disenfranchised and to find the humanity in every person.
Praise for Blue Yodel (Yale Series of Younger Poets #109)
"[An] imaginative and haunting debut."—Alex Crowley, Publishers Weekly
"Many of the 31 powerhouse poems of Blue Yodel take on the transition from one state to another, as well as history's insistence that the past has somehow passed."—Boston Globe
"Elkins' first book . . . is rich with nuance and poignant discovery. . . . Elkins shocks you, makes you cry out loud and sit riveted, disturbed, amused, and intrigued while contemplating human complexity."—Booklist
"The intensities of image, music, and rhetoric serve to unmask desire at its most elemental."—Publishers Weekly
"A gorgeous, midnight-hued homage to Southern Gothic tradition."—Sarah Meyer, O, The Oprah Magazine
"Blue Yodel emits a powerful call from the forgotten to the forgotten, the remembered, the loved, the unloved, the lost, and the found. Let's hope everyone is lucky enough to hear its cry."—Oriana Tang, Adroit Journal
Return the howl to its wolf
Return the shovel to the barn, the rope to the horse's stable
Resurrect the dark from its heart housed in terror
 
Reenter the night through its door of mercy
 
—from "Reverse: A Lynching"
"Reading these poems, I think of the photographs of Diane Arbus. . . . The poetry of Blue Yodel is not easy. It presents uncomfortable truths and leaves us to wrestle with them on our own. In the course of that wrestling, we learn a lot about what we know versus what we'd prefer not to know."—Carl Phillips, from the Foreword
"Ansel Elkins's writing is spare, musical, and sophisticated, and it anchors her powerful imagination, her phantasmagoric landscapes and stories, her wild figurations, her Southernism, and her moral ardor. These are poems poised by the discipline of the mind and perfected by the restlessness of the spirit."—Vijay Seshadri, Pulitzer Prize–winning author of 3 Sections: Poems
"A wonderful piece of work. Big, complicated, and with language that sings. I found myself waking up with stanzas repeating in the back of my head."—Dorothy Allison, author of Bastard Out of Carolina