Discounted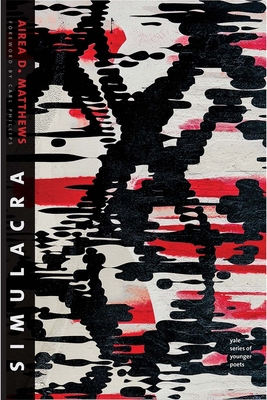 Simulacra (Yale Series of Younger Poets #111)
Previous price:

$20.95
Current price:

$20.00
Publication Date:
March 28th, 2017
Publisher:
Yale University Press
Usually Ships in 1 to 5 Days
Description
Winner of the 2016 Yale Series of Younger Poets prize
A fresh and rebellious poetic voice, Airea D. Matthews debuts in the acclaimed series that showcases the work of exciting and innovative young American poets. Matthews's superb collection explores the topic of want and desire with power, insight, and intense emotion. Her poems cross historical boundaries and speak emphatically from a racialized America, where the trajectories of joy and exploitation, striving and thwarting, violence and celebration are constrained by differentials of privilege and contemporary modes of communication. In his foreword, series judge Carl Phillips calls this book "rollicking, destabilizing, at once intellectually sly and piercing and finally poignant." This is poetry that breaks new literary ground, inspiring readers to think differently about what poems can and should do in a new media society where imaginations are laid bare and there is no thought too provocative to send out into the world.
Praise for Simulacra (Yale Series of Younger Poets #111)
"Matthews's writing is bold, innovative and complex."—Washington Post
"Matthews is virtuosic, frantic, and darkly, very darkly, funny."—Dan Chiasson, New Yorker
"[A] deft, shape-shifting debut. . . . Matthews surveys the possible responses to what seems ineluctable, offering a work of intrepid imagination, inquiry, and strength."—Publishers Weekly (starred review)
"There's manic, witty energy throughout and delight in the play of form and language."—Library Journal
"Matthews has earned a place in the accomplished company of Adrienne Rich and Muriel Rukeyser."—Booklist
"Simulacra . . . demonstrates how traditional text-based poetry is evolving and adapting to modern molds."—Pacific Standard
Winner of a 2016 Rona Jaffee Foundation Writer's Award