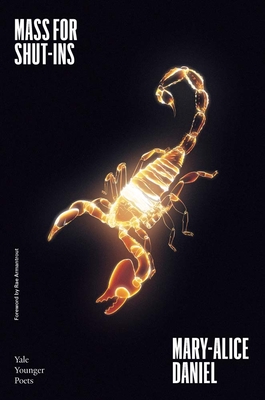 Mass for Shut-Ins (Yale Series of Younger Poets #117)
Publication Date:
March 21st, 2023
Publisher:
Yale University Press
Usually Ships in 1 to 5 Days
Description
The 117th volume of the Yale Series of Younger Poets, in which Mary-Alice Daniel confronts tricontinental culture shock and her curious placement within many worlds
 
"Against humans creating hell on earth, Daniel draws on animistic, Islamic, and syncretic Christian traditions from her native Nigeria to unleash potent incantations, rituals and spells, electric as St. Elmo's fire. Buckle up."—Rae Armantrout, judge
 
In Mass for Shut-Ins, African and Western mythic systems and modern rituals originate an ill-omened universe. Here, it is always night, grim night, under absurd moons. Venturing through dreamscapes, hellscapes, and lurid landscapes, poems map speculative fields of spiritual warfare. This collection is controlled chaos powered by nightmare fuel. It animates an utterly odd organism: a cosmology cobbled with scripture, superstition, mass media, mad science. Horrid, holy, unholy—these pages overrun with the unhinged, intrusive thoughts that obsess us all late into nighttime.