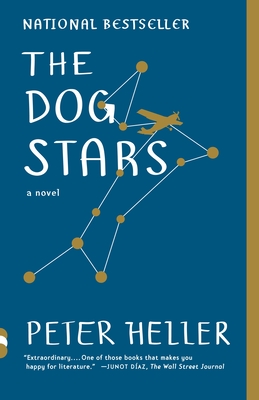 The Dog Stars (Vintage Contemporaries)
Publication Date:
May 7th, 2013
Usually Ships in 1 to 5 Days
It is 10 years after the end of civilization. Few survived the illness that wiped out most of the population of the U.S. Hig, a pilot, and his dog, Jasper, live in and defend an airport with Bangley, a gun-obsessed gruff man with no second thoughts about killing intruders. Somehow, Hig has maintained his conscience, continues to yearn for more to life, and sets out to find it. Heller has written a masterpiece full of language so beautiful it will break your heart and then fill it back up.
August 2012 Indie Next List
Description
NATIONAL BESTSELLER • From the author of The River: In this "end-of-the-world novel more like a rapturous beginning" (San Francisco Chronicle), Hig somehow survived the flu pandemic that killed everyone he knows. His gripping story is "an ode to friendship between two men...the strong bond between a human and a dog, and a reminder of what is worth living for" (Minneapolis Star-Tribune).
Hig's wife is gone, his friends are dead, and he lives in the hangar of a small abandoned airport with his dog, Jasper, and a mercurial, gun-toting misanthrope named Bangley.
But when a random transmission beams through the radio of his 1956 Cessna, the voice ignites a hope deep inside him that a better life exists outside their tightly controlled perimeter. Risking everything, he flies past his point of no return and follows its static-broken trail, only to find something that is both better and worse than anything he could ever hope for.
Look for Peter Heller's new novel, The Last Ranger, coming soon!
Praise for The Dog Stars (Vintage Contemporaries)
A San Francisco Chronicle and Atlantic Monthly Best Book of the Year
"Extraordinary. . . . One of those books that makes you happy for literature." —Junot Díaz, The Wall Street Journal
 
"This end-of-the-world novel [is] more like a rapturous beginning. . . . Remarkable." —San Francisco Chronicle
   
"For all those who thought Cormac McCarthy's The Road the last word on the post-apocalyptic world—think again. . . . Make time and space for this savage, tender, brilliant book." —Glen Duncan, author of The Last Werewolf
 
"Heart-wrenching and richly written. . . . The Dog Stars is a love story, but not just in the typical sense. It's an ode to friendship between two men, a story of the strong bond between a human and a dog, and a reminder of what is worth living for." —Minneapolis Star-Tribune
"A dreamy, postapocalyptic love letter to things of beauty, big and small." –Gillian Flynn, author of Gone Girl 

"Heartbreaking" —The Seattle Times
 
"A brilliant success." —The New Yorker
 
"Beautifully written and morally challenging" –The Atlantic Monthly
"A book that rests easily on shelves with Dean Koontz, Jack London or Hemingway." —The Missourian

"Dark, poetic, and funny." —Jennifer Reese, NPR
"Terrific. . . . Recalling the bleakness of Cormac McCarthy and the trout-praising beauty of David James Duncan, The Dog Stars makes a compelling case that the wild world will survive the apocalypse just fine; it's the humans who will have the heavy lifting." —Outside

"A post-apocalyptic adventure novel with the soul of haiku." —The Columbus Dispatch
"An elegy for a lost world turns suddenly into a paean to new possibilities. In The Dog Stars, Peter Heller serves up an insightful account of physical, mental, and spiritual survival unfolded in dramatic and often lyrical prose." —The Boston Globe
"Take the sensibility of Hemingway.  Or James Dickey.  Place it in a world where a flu mutation has wiped out ninety-nine percent of the population. Add in a heartbroken man with a fishing rod, some guns, a small plane. Don't forget the dog. Now imagine this man retains more hope than might be wise in such a battered and brutal time. More trust. More hunger for love—more capacity for it, too. That's what Peter Heller has given us in his beautifully written first novel." —Scott Smith, author of A Simple Plan and The Ruins

"With its evocative descriptions of hunting, fishing, and flying, [The Dog Stars], perhaps the world's most poetic survival guide, reads as if Billy Collins had novelized one of George Romero's zombie flicks." —Publishers Weekly (starred)
 "The Dog Stars can feel less like a 21st-century apocalypse and more like a 19th-century frontier narrative (albeit one in which many, many species have become extinct). There are echoes of Grizzly Adams or Jeremiah Johnson in scenes where Heller lingers on the details of how the water in a flowing stream changes color as the sun moves across the sky." —The Dallas Morning News
"Full of action and hope…. One you'll not soon forget." — The Oklahoman

"A heavenly book, a stellar achievement by a debut novelist that manages to combine sparkling prose with truly memorable, shining, characters." —The New York Journal of Books

"Gruff, tormented and inspirational, Heller has the astonishing ability to make you laugh, cringe and feel ridiculously vulnerable throughout the novel that will have you rereading certain passages with a hard lump in the pit of your stomach. One of the most powerful reads in years." —Playboy

"The Dog Stars is a wholly compelling and deeply engaging debut." —Pam Houston, author of Contents May Have Shifted

"Beautiful, haunting and hopeful. . . . Makes your breath catch and your heart ache." —Aspen Daily News
"At times funny, at times thrilling, at times simply heartbreaking and always rich with a love of nature, The Dog Stars finds a peculiar poetry in deciding that there's really no such thing as the end of the world—just a series of decisions about how we live in whatever world we've got." —Salt Lake City Weekly
"What separates Heller's book from other End of Days stories is that it doesn't rely on the thematic fail-safes to tell the story—The Dog Stars is quite simply the story of what it's like to be alonet." —The Stranger
"Proves a truth we know from our everyday nonfictional lives: Even when it seems like all the humans in the world are only out for themselves, there are always those few who prove you absolutely wrong—in the most surprising of ways." —Oprah.com
"Heller has created a heartbreakingly moving love story. . . . It's an ode to what we've lost so far, and how we risk losing everything." —Cincinnati City Beat

"A stunning, hope-riddled end-of-the-world story. . . . Bound to become a classic." —Flavorwire

"Heller's writing gives you a heartbreaking jolt, like a sudden wakening from a dream."  —The Seattle Times

"Heller is a masterful storyteller and The Dog Stars is a beautiful tribute to the resilience of nature and the relentless human drive to find meaning and deep connections with life and the living." —Julianna Baggott, author of Pure

"Terrific . . . With echoes of Moby Dick, The Dog Stars . . . brings Melville's broad, contemplative exploration of good and evil to his story." —Shelf Awareness
"Heller's surprising and irresistible blend of suspense, romance, social insight, and humor creates a cunning form of cognitive dissonance neatly pegged by Hig as an 'apocalyptic parody of Norman Rockwell'—a novel, that is, of spiky pleasure and signal resonance." —Booklist (starred)