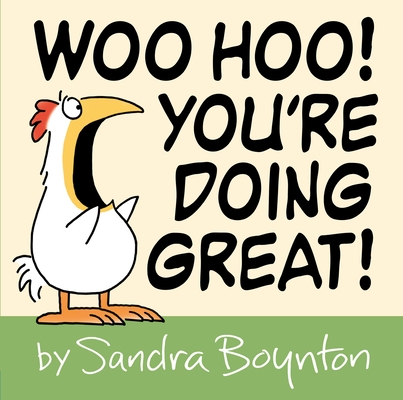 Woo Hoo! You're Doing Great!
Publication Date:
April 4th, 2023
Publisher:
Little, Brown Books for Young Readers
Usually Ships in 1 to 5 Days
Description
Bestselling, beloved author Sandra Boynton—and a very exuberant chicken!—have an important message to share in this inspiring and highly giftable all-ages picture book for every life milestone!
 
Whether you are learning to skate, baking a cake, or even making a mistake, this hilarious and heartfelt rhyming book reminds us that trying our best is reason to celebrate. From children trying to master new skills to adults who had a hard week at work, we all get overwhelmed sometimes and need reassurance. And who better to offer it than a chicken exclaiming: "WOO HOO! YOU'RE DOING GREAT!" 
The ideal gift to cheer on kids and adults through life's milestones--both big and small--including moving up ceremonies and graduations, birthdays, testing out a hobby, starting out somewhere new, and so much more.
Praise for Woo Hoo! You're Doing Great!
A New York Times Bestseller
An Indie Bestseller
An Amazon Best Book of the Year
"Woo Hoo! You're Doing Great is a life-affirming reminder for humans and chickens everywhere that they're doing a terrific job just being themselves. It's perfect for parents and babies and children, teachers, friends, great-aunts and graduates. Give it for holidays, birthdays, Tuesdays, or any time you want to let someone know they're doing great."—Ann Patchett
*"This riotous book hits all the right notes and does so succinctly and hilariously. WOO HOO! This is the perfect way to foster healthy self-esteem in little ones."—Kirkus, starred review
"Self-help gets the Sandra Boynton treatment with energetic antics, deadpan humor, and ear-pleasing rhyme."
 —Horn Book