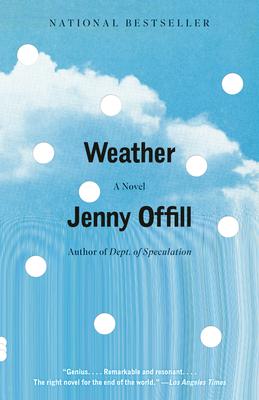 Weather (Vintage Contemporaries)
Publication Date:
January 19th, 2021
Usually Ships in 1 to 5 Days
Brief and brilliant, Jenny Offill's Weather doesn't need page after page to trap us inside. Tearing through precision-crafted paragraphs, we willingly follow a Brooklyn librarian down a doomsday rabbit hole as she tries to limit the world's damage to those she loves. On the express bus to the demise of civilization, find a seat next to Lizzie for a wild and witty ride through the storm raging across America. An astute and satisfying read.
February 2020 Indie Next List
Description
NEW YORK TIMES BESTSELLER • From the beloved author of the nationwide best seller Dept. of Speculation comes a "darkly funny and urgent" (NPR) tour de force about a family, and a nation, in crisis.
Lizzie works in the library of a university where she was once a promising graduate student. Her side hustle is answering the letters that come in to Hell and High Water, the doom-laden podcast hosted by her former mentor. At first it suits her, this chance to practice her other calling as an unofficial shrink—she has always played this role to her divorced mother and brother recovering from addiction—but soon Lizzie finds herself struggling to strike the obligatory note of hope in her responses. The reassuring rhythms of her life as a wife and mother begin to falter as her obsession with disaster psychology and people preparing for the end of the world grows. A marvelous feat of compression, a mix of great feeling and wry humor, Weather is an electrifying encounter with one of the most gifted writers at work today.
Praise for Weather (Vintage Contemporaries)
"Genius. . . . Remarkable and resonant. . . . The right novel for the end of the world."
—Los Angeles Times

"Tiny in size but immense in scope, radically disorienting yet reassuringly humane, strikingly eccentric and completely irresistible. . . . Luminous."
 —The Boston Globe

"Brilliant. . . . Offill's writing is often brisk and comic, and her book's format underlines her gifts. . . . Weather is her most soulful book. . . . Offill's humor is saving humor; it's as if she's splashing vinegar to deglaze a pan."
—The New York Times Book Review

"Darkly funny and urgent. . . . Offill is a master of the glancing blow."
—NPR

"Jenny Offill is the master of novels told in sly, burnished fragments. . . . In Offill's hands, the form becomes something new . . . a method of distilling experience into its brightest, most blazing forms — atoms of intense feeling. . . . These fragments feel like: teeming worlds suspended in white space, entire novels condensed into paragraphs. . . . What she is doing is coming as close as anyone ever has to writing the very nature of being itself."
—Parul Sehgal, The New York Times
 
"Weather holds its own with the strongest examples of the new non-speculative climate fiction. It has the feel of a classic, the kind of book that future humans will read in order to figure out what people were thinking in the early decades of the twenty-first century."
—Los Angeles Review of Books

"Glorious, dizzying, disconcerting and often laugh-out-loud hysterical."
—USA Today

"Time flies by in this wry story of a family—librarian Lizzie, her classics buff husband, their son, and her brother, a recovering addict. Apocalypse (climate and otherwise) looms over the narrative, and yet it is funny and hopeful too."
—Vanity Fair

"[Weather] solidifies the author's place among the vanguard of writers who are reinvigorating literature."
—O, The Oprah Magazine

"Compact and wholly contemporary, Jenny Offill's third novel sees a librarian find deep meaning and deep despair in her side gig as an armchair therapist for those in existential crisis. . . . A canny, comic story about the power of human need."
—Esquire

"An eerily realistic reflection on what it feels like to exist in a bubble of nonstop information."
—Time
 
"A beach read for those who like to worry about the beaches. . . . This is a pre-apocalyptic novel, and its subject is dread, not disaster."
—The Nation
 
"Like a sort of literary shadow box, the novel collects images and instances from the past few years, with the 2016 election as a clarifying point in this picture of a fraught and fragmenting world. . . . One of the wonders of Offill's writing is that her light touch lets us glimpse the very real dread lurking underneath."
—Minneapolis Star Tribune

"Offill has achieved the near impossible. She has made grappling with the climate crisis not only important and challenging — but also, a tough assignment, entertaining."
—The Toronto Star

"Another perfectly wonderful trip inside the mind of Jenny Offill. . . . [Her] fiction is such a pleasure to read. . . . The funniness of many of her sentences indicates how precisely she calibrates them."
—Slate