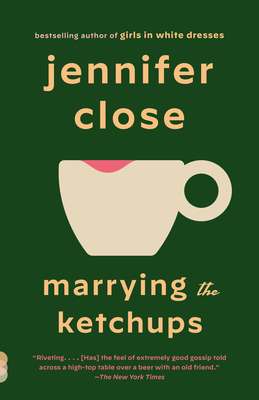 Marrying the Ketchups: A novel (Vintage Contemporaries)
Publication Date:
April 25th, 2023
Usually Ships in 1 to 5 Days
This will top the list of family stories! I adored every minute with the Sullivans. The Chicago setting, baseball, the aftermath of the 2016 election, and the family restaurant at the heart of it all created an unforgettable experience.
May 2022 Indie Next List
Description
An irresistible comedy of manners about three generations of a Chicago restaurant family and the deep-fried, beer-battered, cream cheese-frosted love that feeds them all—from the best-selling author of Girls in White Dresses
"Riveting...the feel of extremely good gossip told across a hightop table over a beer with an old friend." —The New York Times Book Review
Here are the three things the Sullivan family knows to be true: the Chicago Cubs will always be the underdogs; historical progress is inevitable; and their grandfather, Bud, founder of JP Sullivan's, will always make the best burgers in Oak Park. But when, over the course of three strange months, the Cubs win the World Series, Trump is elected president, and Bud drops dead, suddenly everyone in the family finds themselves doubting all they hold dear.
Take Gretchen for example, lead singer for a '90s cover band who has been flirting with fame for a decade but is beginning to wonder if she's too old to be chasing a childish dream. Or Jane, Gretchen's older sister, who is starting to suspect that her fitness-obsessed husband who hides the screen of his phone isn't always "working late." And then there's Teddy, their steadfast, unfailingly good cousin, nursing heartbreak and confusion because the guy who dumped him keeps showing up for lunch at JP Sullivan's where Teddy is the manager. How can any of them be expected to make the right decisions when the world feels sideways—and the bartender at JP Sullivan's makes such strong cocktails?
Outrageously funny and wickedly astute, Marrying the Ketchups is a delicious confection by one of our most beloved authors.
Praise for Marrying the Ketchups: A novel (Vintage Contemporaries)
"Riveting… [Close has] a knack…of inventing story lines that have the feel of extremely good gossip told across a hightop table over a beer with an old friend. Always, I wanted to stay for another, just to hear more… Propulsiveness is a quality that's hard to explain and harder still to teach — but if Jennifer Close ever felt like running a course on it, I'd sign up."
—Liz Moore, The New York Times
"Wise and very funny...Marrying the Ketchups wonderfully delineates the rituals, grudges and shared history that bind a family." 
—Joanne Kaufman, The Wall Street Journal
"Everything's falling apart: Jane Sullivan's marriage, her sister's band, their cousin's relationship. All are drawn back to the Chicago eatery their grandfather founded. Weaving her story around the restaurant, the Cubs' fortunes and the mood after the 2016 election, Close serves up a treat."
—Robin Micheli and Marion Winik, People Magazine
"Get ready to wish you were a member of the Sullivans in this generation-spanning, laugh-out-loud story."
—E! News
"A delightful tour of three generations of a Chicago restaurant family."
—Mackenzie Dawson, New York Post
"Lovingly lived-in"
—Cory Oldweiler, The Star Tribune
"Exceedingly funny…full of quotable quips…The absurdity at the heart of Marrying the Ketchups isn't that the world stops when glory or tragedy strikes, it's that it doesn't. We can eat at P.F. Chang's despite the fracture in our hearts, we can sing 'Happy Birthday' despite the atrocities in the news, and our loser team can dare to win without us there to see it…The novel that has best captured the way 'Our whole country feels shaky and flammable at the moment,' accomplished by vividly illustrating our last shaky and flammable moment."
—Brendan Buck, New City Lit

"Deft…As with Close's other compelling novels, the details of the characters' every-day lives drive the drama."
—Georgi Presecky, Oak Park Patch
"Close...drops readers smack into Oak Park, a leafy Chicago suburb, and lets them hear the hiss of fryers hitting hot oil and catch an ice-cold Old Style sliding across the bar… Close lets each character's unique personality shine. Fans of Tracey Lange's We Are the Brennans and Taylor Jenkins Reid's Malibu Rising will fall in love with these maddening, loving, stubborn relatives. Setting nostalgia against progress, tradition against rebirth, Close outlines the cousins' grief and personal growth as they work with, and against, one another."
—Booklist, starred
"[An] amusing, engaging novel about life, death, and the restorative power of a grilled cheese sandwich… Well-drawn characters always keep you interested in what happens next. Close navigates their entanglements and dissolutions with wry humor: She understands the difficulties and distractions of modern romance. As Jane, Gretchen, and Teddy struggle to find their footing, the close-knit Oak Park neighborhood is changing, too. But is that so terrible? Like marrying the ketchups, a long-standing kitchen task now deemed unsanitary, traditions can adapt to a new world order. Just like the Sullivans. An entertaining family story with realistic, interesting characters."
—Kirkus
"Close has cooked up a delicious, hilarious apple pie of a novel, full of generous humor, buoyant wit, robust family squabbles, and a velocity that goes down as smoothly as a jello shot."
—The National Book Review
"I love the Sullivans—in fact, I want to be a Sullivan. I want to laugh with them and cry with them and share greasy plates of food with them at long family dinners. Marrying the Ketchups is Jennifer Close at her best: a smart, funny, bighearted novel that proves the remarkable power of family (and French fries) to heal us during truly bewildering times."
—Grant Ginder, author of The People We Hate at the Wedding and Let's Not Do That Again
"Marrying the Ketchups mercilessly (and hilariously) skewers the indignities of modern romance, the absurdities of family life, the tribalism of the American Midwest. Jennifer Close's fourth book is a rare feat—a genuinely funny comic novel that is cutting but never cruel, with the ambition to explore the impact of contemporary political tumult on everyday life."
—Rumaan Alam, best-selling author of Leave the World Behind
 
"This novel is laugh-out-loud funny, and deeply resonant to our times. I was so happy to be in the Sullivan family's Chicago bar, caught in the swirl of three generations of grudges, love affairs and fraught personal decisions. Jennifer Close has written a smart, hilarious book that I was delighted to escape into."
—Ann Napolitano, best-selling author of Dear Edward
"Marrying the Ketchups is funny and melancholy and astoundingly smart all at the same time. Jennifer Close is like the most skillful of jewelers, tap-tap-tapping perfect sentences—each one quickly hit and left to resonate. My first thought upon finishing was: I wish, I wish, I wish I could write like Jennifer Close."
—Katherine Heiny, author of Early Morning Riser