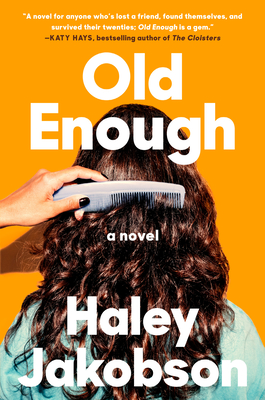 Old Enough: A Novel
Publication Date:
June 20th, 2023
Usually Ships in 1 to 5 Days
Description
"Old Enough is full of growth, heartbreak, and winsome bisexual chaos."—Vogue
A debut novel "as astute, funny, and loving as your best friend from college"* about a young bisexual woman who is pulled between a new sense of community and loyalty to a friendship she's outgrown
*Isle McElroy
Savannah "Sav" Henry is almost the person she wants to be, or at least she's getting closer. It's the second semester of her sophomore year. She's finally come out as bisexual, is making friends with the other queers in her dorm, and has just about recovered from her disastrous first queer "situationship." She is cautiously optimistic that her life is about to begin.
 
But when she learns that Izzie, her best friend from childhood, has gotten engaged, Sav faces a crisis of confidence. Things with Izzie haven't been the same since what happened between Sav and Izzie's older brother when they were sixteen. Now, with the wedding around the corner, Sav is forced to reckon with trauma she thought she could put behind her.
 
On top of it all, Sav can't stop thinking about Wes from her Gender Studies class—sweet, funny Wes, with their long eyelashes and green backpack. There's something different here—with Wes and with her new friends (who delight in teasing her about this face-burning crush); it feels, terrifyingly, like they might truly see her in a way no one has before.
 
With a singularly funny, heartfelt voice, Old Enough explores queer love, community, and what it means to be a sexual assault survivor. Haley Jakobson has written a love letter to friendship and an honest depiction of what finding your people can feel like—for better or worse.
Praise for Old Enough: A Novel
One of Harper's Bazaar's "18 Best Queer Books for Pride Month and Beyond"
One of NBC News' Must-Read Books to Celebrate Bisexuality Day
Featured in NYLON's "June 2023's Must-Read Book Releases"
One of LGBTQ Reads' Most Anticipated Titles
One of Pink News' "23 brilliant sapphic books that will be taking over your reading list this year"
Included in Lit Hub's "New Books to Check Out Today"
One of The Messenger's "Best Books to Read During Pride Month"
Featured in the Skimms' "14 Reads That Belong In Your Beach Bag This Summer"
One of The Lesbrary's "30 New Sapphic Books Out in June"
Included in Autostradde's "Queer and Feminist Books Coming Your Way Summer 2023"
One of Scary Mommy's "12 Queer Romance Novels to Get Your Heart Pumping"
Featured in Fangirlish's "20 LGBTQ+ Books Coming Out This June"
One of Luxury London's "Best Books of June"
Included in Scary Mommy's "New Summer Reads"
"Jakobson is at her best when she allows the bubbles of denial and guilt to rise and burst with Savannah's anger at her assailant, at her friend, at her mother and at a society that makes it impossible for any legal definition of justice to prevail…Through Old Enough, Jakobson offers a guiding hand to her readers. If you're going through this mess, you're not alone, she seems to say, and if you've already survived, you'll understand."—The New York Times Book Review
 
"The minute you crack the cover of Haley Jakobson's Old Enough, you're likely to recognize protagonist Savannah Henry; not because you're necessarily queer, or a college student, or a survivor of sexual assault, or a person with a complex relationship to your lifelong BFF, but because Jakobson writes Sav with enough humor, heart, and nuance to make her feel simultaneously relatable and unique… Watching her form a sense of herself and learn to detach her self-worth from the world's expectations of how survivors should live, love, and heal is genuinely gratifying…Old Enough is full of growth, heartbreak, and winsome bisexual chaos."—Emma Specter, Vogue
"Equal parts funny and romantic . . . A provocative work of art about a young woman who struggles to accept the pain and trauma of the past while looking forward to brighter days in the future."—Cosmopolitan, "The Best LGBTQ+ Books of 2023"
"The kicker here is the word bisexual. It's on the book's dust jacket, and all over the first chapter and the pages that follow. This is what bi readers say they're hungry for the most – a book that proudly and vehemently says it's a 'big bisexual book.'"—USA Today
"Haley Jakobson's debut novel, Old Enough, is an entertaining and quietly moving narrative about friendship, sexual assault, and remembering that what we owe ourselves comes before what we owe anyone else."—Shondaland, "Best Books of June"
"Jakobson's book is part coming-of-age story, part self-proclaimed 'big bisexual novel', part treatise on the ways friendship and girlhood and brushes at love – or something like it – leaves us bruised."—Teen Vogue
 
"[Sav is] a sophomore in college, thoroughly out as bisexual amongst her new chosen family at school, but not far enough removed from her high school self as to feel fully-realized as an adult. It's an experience Jakobson captures so tenderly that reading Old Enough feels like holding up a mirror to your younger self, no matter how far removed you are from that period in your life."—NYLON
"Both heartfelt and heart-wrenching, Jakobson explores finding your chosen family, falling in love, and facing the past in this unmissable debut."—PopSugar, "Best Books of 2023"
"OLD ENOUGH is the queer coming-of-age novel that most of us never had…It's a heartfelt and humorous examination of the fractured and nonlinear nature of healing and becoming whole. Savannah's journey shows the lengths we go to in order to hold ourselves together and the integration that can come from letting ourselves fall apart — a process that's recognizable to queer people and survivors alike."—Them

"Jakobson's characters are a delight, their dialogue intoxicating, their mistakes and attempts at reconciliation beautiful to watch. Readers will down this breathless debut in one sitting, sending gentle prayers up to their 20-year-old selves." —Booklist, *starred review*
"Jakobson brilliantly blends complex ideas and relationship dynamics with Savannah's witty stream of consciousness and sharp dialogue…This poignant rendering of one young woman's journey out of denial and shame into a budding self-love is essential reading."—Kirkus
"Jakobson lands the intensity of college friendships and sexual relationships with exquisite depictions of Sav and her cohort…This writer shows plenty of promise."—Publishers Weekly
"Haley Jakobson's Old Enough is an absolute snack. Full of humor and heartache, Jakobson makes the hard thing look easy: crafting a novel that explores the messy way we navigate who we were and who we're becoming with tenderness and grace. Part campus novel, part coming of age story, Old Enough is about the secrets we keep from others (and ourselves) and how community can transform our lives. A novel for anyone who's lost a friend, found themselves, and survived their twenties, Old Enough is a gem."—Katy Hays, bestselling author of The Cloisters
"Haley Jakobson's Old Enough evokes the stormy early years of college with such tenderness and honesty I was transported right back to campus. This pitch-perfect story about queer coming-of-age is brilliantly observed, wildly funny, and full of insights into the way the past can snake through the present—no matter how hard we try to escape. I loved every word and can't wait for what Jakobson writes next."—Julie Buntin, author of Marlena
"A deeply immersive, thought provoking and engaging exploration of identity and how and when we get the courage to be fully ourselves, Haley Jakobson's OLD ENOUGH is a novel about growing up, letting go, and learning to love and be loved on our own terms."—Lynn Steger Strong, author of Flight
 
"Haley Jakobson's OLD ENOUGH is a campus novel as astute, funny, and loving as your best friend from college. A story of transformation and reckoning, this debut portrays the difficulty of becoming your true self when you haven't fully recovered from the past. It is a testament to the power, and the weight, of friendship, in all its messiness and its necessity."—Isle McElroy, author of The Atmospherians
 
"Haley Jakobson brings to life a modern undergraduate experience in all its messy, cringey glory and gives Generation Z the queer coming of age novel it needs in the era of both social media and social anxiety. Her work explores the tension between community of origin and community of exploration, and allows flawed teens and twenty-somethings to flail their way into meaning and identity."—A.E. Osworth, author of We Are Watching Eliza Bright
"If you're looking for a group of cool queer friends, look no further than Old Enough. These characters jump off the page, transporting us into an immersive and heartwarming love story for a new era. Haley Jakobson shows us the power of chosen family, the nuances of bisexuality, and the strength it takes to overcome your past in service of your future."—Jen Winston, author of Greedy
 
"As always, Haley Jakobson's writing pulls you in and moves something within you already at the very first sentence. I truly loved this book. Read it!"—Rachel Brathen, bestselling author of Yoga Girl