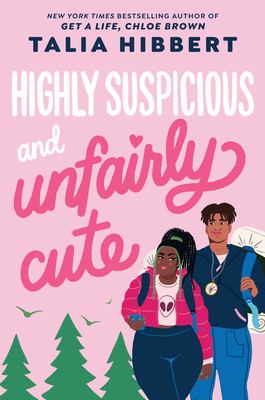 Highly Suspicious and Unfairly Cute
Publication Date:
January 3rd, 2023
Publisher:
Joy Revolution
Usually Ships in 1 to 5 Days
Talia Hibbert never disappoints! Her signature wit and charm are onfull displayin her first foray into the Young Adult world. I couldn't put this book down — not that I wanted to. I would follow Celine and Brad anywhere.
January/February 2023 Kids' Indie Next List
Description
NEW YORK TIMES BESTSELLER • From the bestselling author of the Brown Sisters trilogy, comes a laugh-out-loud story about a quirky content creator and a clean-cut athlete testing their abilities to survive the great outdoors—and each other.
Bradley Graeme is pretty much perfect. He's a star football player, manages his OCD well (enough), and comes out on top in all his classes . . . except the ones he shares with his ex-best friend, Celine.
 
Celine Bangura is conspiracy-theory-obsessed. Social media followers eat up her takes on everything from UFOs to holiday overconsumption—yet, she's still not cool enough for the popular kids' table. Which is why Brad abandoned her for the in-crowd years ago. (At least, that's how Celine sees it.)
These days, there's nothing between them other than petty insults and academic rivalry. So when Celine signs up for a survival course in the woods, she's surprised to find Brad right beside her.
Forced to work as a team for the chance to win a grand prize, these two teens must trudge through not just mud and dirt but their messy past. And as this adventure brings them closer together, they begin to remember the good bits of their history. But has too much time passed . . . or just enough to spark a whole new kind of relationship?
Praise for Highly Suspicious and Unfairly Cute
Praise for Highly Suspicious and Unfairly Cute:
★ "A zippy rom-com with strong characterization, bursting with Gen Z–approved verbal sparring and stolen kisses."—Kirkus Reviews, Starred Review
 
★ "Between the quippy, energetic snipes and entertainingly uncomfortable scenarios, Hibbert has built a cast of characters with real depth and heart, and readers will hope for their happy endings as they stumble their way toward joy." —Booklist, Starred Review
"With dialogue that juggles both laugh-out-loud humor and pull-at-the-heartstrings vulnerability amid an outdoorsy premise, Hibbert attentively captures Celine's feelings of abandonment and resentment, and Brad's mental health struggles while striking a quintessential balance of romance and comedy in this lively romp."—Publishers Weekly

"A pure delight. This book is confirmation: no one does love stories like Talia Hibbert."—LEAH JOHNSON, bestselling author of You Should See Me in a Crown and Rise to the Sun

"An effervescent, funny, tender, and joyous story."—YAMILE SAIED MÉNDEZ, award-winning author of Furia and Twice a Quinceañera
"A razor-sharp, witty enemies-to-lovers rom-com. Readers will laugh out loud and swoon at the same time. Simply unputdownable."—EMIKO JEAN, New York Times bestselling author of Tokyo Ever After
"Hibbert delivers yet another swoon-worthy romance filled with banter that made me grin like a fool from one page to the next. I dare you not to fall in love."—JESSE Q. SUTANTO, bestselling author of Dial A for Aunties and Well, That Was Unexpected

"Don't miss out on the laugh-out-loud childhood-friends-to-enemies-to-rivals-to-lovers romance that will warm your heart this winter!" —The Nerd Daily

"A great addition to any library's YA shelves."—School Library Journal

"Side-splittingly hilarious."—PopSugar

"An emotional and satisfying story that's well-written and heartfelt, full of Hibbert's trademark banter and heart. A joyful, escapist delight." —Paste Magazine

"Highly Suspicious and Unfairly Cute will leave readers eager to discover what else Joy Revolution will publish." —BookPage

"A cozy read."—Cosmopolitan

"Skillfully written romantic banter make this an engrossing rom-com."—The Horn Book