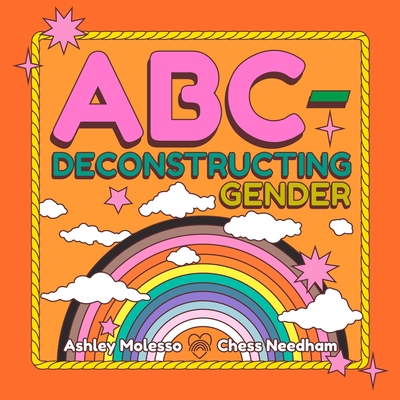 ABC-Deconstructing Gender
Publication Date:
May 2nd, 2023
Publisher:
Running Press Kids
Usually Ships in 1 to 5 Days
Description
Be affectionate, beautiful, courageous, and more in this gender-bending ABC book.
Daryl is so affectionate. Alex is gentle with the family cat. Sage and Kaylin are super strong. And Ira yearns to do ballet like their older brother. Demystify gender stereotypes while learning your ABCs in this bright, celebratory debut picture book by stationery company Ash + Chess, who bring not only their quirky artistic flavor but also their personal perspectives as a queer couple to this empowering book for younger kids. This hardcover picture book is rendered in bright, bold colors and patterns and uses neon pink hues throughout. As a bonus, remove the book's jacket to reveal a cool ABC poster on the opposite side that can be displayed at home, in schools, at libraries, or anywhere!
Praise for ABC-Deconstructing Gender
"This vibrantly illustrated abecedary from the queer-and-trans-couple owners of stationery company Ash + Chess reminds readers of all ages that a gender identity is whatever a person wants theirs to be…A retro, 1970s color palette presents a distinct, colorful, unapologetically in-your-face world, populated with people of every shape, color, and size. To counter stereotypes, masculine characters are labeled as 'nurturing' and 'affectionate,' feminine ones as 'tough' and 'protective,' and nonbinary or gender-fluid ones as 'gentle' and 'joyous.' It's often challenging to discern which character is being referenced in a given illustration—an intentional and effective choice meant to broaden perspectives. The wide expanse of emotions, activities, settings, and walks of life will spark readers' imaginations while also encouraging them to think outside the box and the binaries when it comes to gender. A fun and incredibly inclusive primer that will open the door for important conversations with kids about identity and who they want to be in their daily lives."—Booklist
"Good-vibes graphics that incorporate the colors of the Pride and trans flags show affectionate figures interacting, emphasizing the empowering message of the book's dedication: 'To everyone out there who has found the courage to be themselves and to those who have yet to.'"—Publishers Weekly
"An ABC book that challenges gender norms… offers a much-needed takeaway."—Kirkus Reviews