Discounted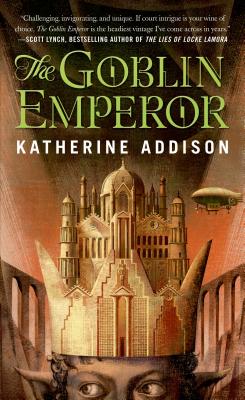 The Goblin Emperor (The Chronicles of Osreth)
Previous price:

$10.99
Current price:

$8.99
Publication Date:
March 3rd, 2015
Usually Ships in 1 to 5 Days
Description
A lush tale of deadly court intrigue and a modern classic of fantasy by Locus award winner and Hugo, Nebula, and World Fantasy Award finalist Katherine Addison
Unbound Worlds 100 Best Fantasy Novels of All Time

A Best Fantasy Novel of the Decade Pick for BookRiot
"Striking."—The New York Times

The youngest, half-goblin son of the Emperor has lived his entire life in exile, distant from the Imperial Court and the deadly intrigue that suffuses it. But when his father and three half brothers in line for the throne are killed in an "accident," he has no choice but to take his place as the only surviving rightful heir.
Entirely unschooled in the art of court politics, he has no friends, no advisors, and the sure knowledge that whoever assassinated his father and brothers could make an attempt on his life at any moment.
Surrounded by sycophants eager to curry favor with the naïve new emperor, and overwhelmed by the burdens of his new life, he can trust nobody. Amid the swirl of plots to depose him, offers of arranged marriages, and the specter of the unknown conspirators who lurk in the shadows, he must quickly adjust to life as the Goblin Emperor. All the while, he is alone, and trying to find even a single friend . . . and hoping for the possibility of romance, yet also vigilant against the unseen enemies that threaten him, lest he lose his throne–or his life.
Within THE CHRONICLES OF OSRETH
The Goblin Emperor
The Cemeteries of Amalo trilogy
The Witness for the Dead
The Grief of Stones
The Tomb of Dragons
Praise for The Goblin Emperor (The Chronicles of Osreth)
"Striking."—The New York Times
"Challenging, invigorating, and unique. If courtly intrigue is your wine of choice, The Goblin Emperor is the headiest vintage I've come across in years." —Scott Lynch, bestselling author of The Lies of Locke Lamora
"I liked it. It's a fantasy, a novel of court intrigue. Those of you who like that aspect of my own work will probably like The Goblin Emperor as well."—George R. R. Martin
"Spellbinding. . . . Unreservedly recommended."—Kirkus, starred review
"Fantastic." —Library Journal, starred review
"Subtle, intricate, fascinating worldbuilding."—Katherine Arden, author of The Bear and the Nightingale
"I enjoyed The Goblin Emperor a great deal. I was sucked right into her world of goblins, elves, and airships, and was anxious to the very end to find out how Maia, the unwanted halfblood son of the Emperor, who finds himself unexpectedly on the throne, learns to navigate the intrigues and danger of the imperial court. An engrossing read!" —Kristen Britain, New York Times bestselling author of Blackveil
"Impressively elaborate worldbuilding underpins this lovely fantasy novel, but I couldn't put it down because of the heart-grippingly sympathetic main character."—Kate Elliott, bestselling author of Unconquerable Sun

"The Goblin Emperor has one of the most lovable characters we've met in ages. . . . Remarkably compelling and fascinating."—iO9
"Ambitious and meticulously executed."—Publishers Weekly
"Addison has built a completely believable world, complete with its own language, customs, and history, but there are tantalizingly familiar elements (such as newspapers and pocket watches) that make us wonder from whence this world came and whether it might have sprung from our own, in a distant future." —Booklist
"The Goblin Emperor made me remember why I fell in love with the fantasy genre."—Jim C. Hines, bestselling author of Goblin Quest
"Katherine Addison has written a nuanced and compelling story. Her world is unusual and vivid, her characters affecting, and her storytelling subtle and deft. This is a book I will be thinking about for a long time. Highly recommended!" —D. B. Jackson, author of Thieftaker
"The Goblin Emperor is a delicious tangle of court intrigue, murder, and an abused boy's coming of age."—Pharaoh Francis, bestselling author of the Horngate Witches series