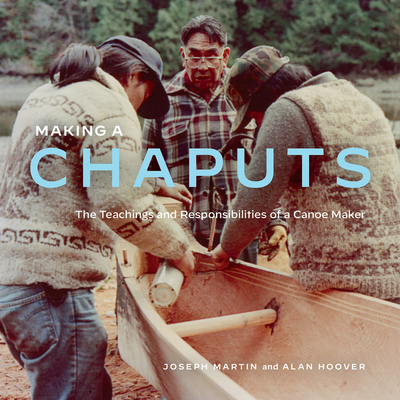 Making a Chaputs: The Teachings and Responsibilities of a Canoe Maker
Publication Date:
June 17th, 2022
Publisher:
The Royal British Columbia Museum
Usually Ships in 1 to 5 Days
Description
A rich visual testament to the practical and cultural power of the dugout canoe, balanced in its description of meaning and method.
Tla-o-qui-aht master canoe maker Joe Martin, in collaboration with former museum curator Alan Hoover, describes the meaning and method behind one of the most vivid and memorable symbols of the Northwest Coast: the dugout canoe. Both artform and technological marvel, the chaputs carries Indigenous cultural knowledge passed down through generations, not only of the practical forestry and woodworking that shape every canoe, but also of the role and responsibilities of the canoe maker. The text includes both a step-by-step explanation of the canoe-making process from tree selection onward (carefully described and dynamically illustrated) and the personal histories of a number of Joe's canoes, encompassing their planning, creation, cultural significance, and role in the process of reconciliation. The teachings Joe received from his father and the expertise he has gained in a lifetime of canoe-making are recorded here in his own words for generations to come.
Praise for Making a Chaputs: The Teachings and Responsibilities of a Canoe Maker
"Making a Chaputs describes a clever, amazing tradition rooted in deep respect for the forest and a lifetime of Indigenous knowledge — a highly recommended book!"— Kathryn Bernick, Archaeologist and author of numerous books including Waterlogged: Examples and Procedures for Northwest Coast Archaeologists and Basketry and Cordage from Hesquiat Harbour
"Joe Martin's work reflects the generationally linked traditions found in Salish Sea archaeological sites going back thousands of years. He has passed this paramount art on through Native apprentices and, here, in his own words, with esteemed colleague Alan Hoover. When tracing ancient basketry styles in the archaeological waterlogged/wet sites of the Salish Sea for thousands of years, we defined our approach as Generationally-Linked Archaeology. As seen at the Makah Ozette Village archaeological wet site from ca. 1700, preserved chaputs canoe models reflect this West Coast tradition a full 16 generations back. Joe Martin, Tia-o-qui-aht First Nation Elder and master canoe carver, best reflects these generationally linked traditions, constructing over 60 full-size chaputs, passing this paramount art on through Native apprentices and, here, in his own words, with esteemed curator and author Alan Hoover."—Ed Carriere and Dale R. Croes, Co-authors of Re-Awakening Ancient Salish Sea Basketry