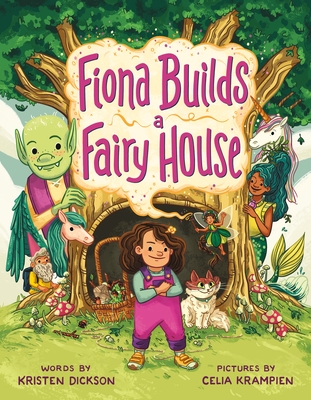 Fiona Builds a Fairy House
Publication Date:
August 1st, 2023
Publisher:
Roaring Brook Press
Usually Ships in 1 to 5 Days
Description
Help Fiona build her very own fairy house in this quirky, magical tale about a girl who believes in fairies, and decides to do something about it!
When Fiona has the idea to build her very own fairy house,
She gets to work right away:
Foraging for supplies,
Scouting for the perfect location,
And recruiting some magical friends.
Building a fairy house isn't as easy as you might think!
But you'll see it's worth it when your guests arrive…
Perfect for fans of Carson Ellis and Emily Winfield Martin's whimsical fantasy, combined with STEM-related aspects reminiscent of The Most Magnificent Thing, Fiona Builds a Fairy House is a ball of fun all readers can enjoy.
Praise for Fiona Builds a Fairy House
"Sure to strike a chord with imaginative youngsters." - Kirkus Reviews