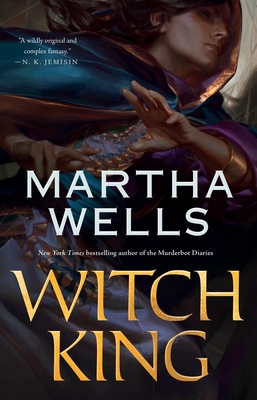 Witch King (The Rising World)
Publication Date:
May 30th, 2023
Usually Ships in 1 to 5 Days
Martha Wells' specialty is charming antiheroes who triumph with violence and ample dark humor.Witch Kingcenters on a demon prince and a powerful witch as they escape captivity and search for the witch's missing wife. Highly recommend!
June 2023 Indie Next List
Description
From the breakout SFF superstar author of Murderbot comes a remarkable story of power and friendship, of trust and betrayal, and of the families we choose.
"I didn't know you were a... demon."
"You idiot. I'm the demon."
Kai's having a long day in Martha Wells' WITCH KING....

After being murdered, his consciousness dormant and unaware of the passing of time while confined in an elaborate water trap, Kai wakes to find a lesser mage attempting to harness Kai's magic to his own advantage. That was never going to go well.
But why was Kai imprisoned in the first place? What has changed in the world since his assassination? And why does the Rising World Coalition appear to be growing in influence?
Kai will need to pull his allies close and draw on all his pain magic if he is to answer even the least of these questions.
He's not going to like the answers.
WITCH KING is Martha Wells's first new fantasy in over a decade, drawing together her signature ability to create characters we adore and identify with, alongside breathtaking action and adventure, and the wit and charm we've come to expect from one of the leading writers of her generation.
Praise for Witch King (The Rising World)
A USA Today Bestseller!
A Sunday Times Bestseller!
A 2023 American Booksellers Pick!
A LibraryReads Pick!
A New York Times Best Fantasy of 2023!
"Wells is working at the height of her powers here, and it's relaxing to be carried along for a ride in the company of such a phenomenal storyteller." —The New York Times
"A wonderfully original world, sympathetic characters and a solid quest make Witch King the satisfying fantasy you yearn for when named swords and cursed rings begin to grow stale." —The Wall Street Journal
"A wildly original and complex fantasy exploring how revolutions are won through trust, and destroyed through selfishness. Wells excels at brooding, powerful inhuman protagonists who just need a little kindness to be their badass best." —N. K. Jemisin
"Unlike anything I've ever read. A layered and complex novel that delivers on the promise of epic fantasy." —Zoraida Córdova
"Fantasy readers looking for new worlds and characters to explore will be enthralled." —Library Journal