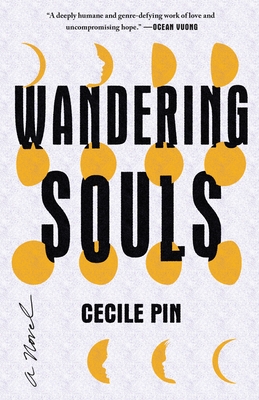 Wandering Souls: A Novel
Publication Date:
March 21st, 2023
Publisher:
Henry Holt and Co.
Usually Ships in 1 to 5 Days
A slim novel, but there is so much here that I just love — beautiful language, devasting subject, and exquisite structure — there is something urgent about the way Pin tells this story. She's created something special!
April 2023 Indie Next List
Description
Longlisted for the Women's Prize for Fiction 2023

"A deeply humane and genre-defying work of love and uncompromising hope." —Ocean Vuong, author of On Earth We're Briefly Gorgeous and Time Is a Mother
There are the goodbyes and then the fishing out of the bodies—everything in between is speculation.
After the last American troops leave Vietnam, siblings Anh, Minh, and Thanh journey to Hong Kong with the promise that their parents and younger siblings will soon follow. But when tragedy strikes, the three children are left orphaned, and sixteen-year-old Anh becomes the caretaker for her two younger brothers overnight.
In the years that follow, Anh and her brothers immigrate to the UK, living first in overcrowded camps and resettlement centers and then, later, in a modernizing London plagued by social inequality. Anh works in a factory to pay the bills. Minh loiters about with fellow high school dropouts. Thanh, the youngest, plays soccer with his friends after class. As they mature, each sibling reckons with survivor's guilt, unmoored by their parents' absence. And with every choice, their paths diverge further, until it's unclear if love alone can keep them together.
Told through lyrical narrative threads, historical research, voices from lost family, and notes by an unnamed narrator determined to chart these siblings' fates, Wandering Souls captures the lives of a family marked by loss yet relentless in the pursuit of a better future. With urgency and precision, it affirms that the most important stories are those we claim for ourselves, establishing Cecile Pin as a masterful new literary voice.
Praise for Wandering Souls: A Novel
PEOPLE's "Book of the Week," April 10, 2023 edition
British Vogue, "8 Sparkling Debut Novels to Brighten Up Your Winter"
Zibby Mag, The Most Exciting Debut Novels of 2023
Zibby Mag, Zibby's Most Anticipated Books of 2023
Goodreads, 105 of the Buzziest Debut Novels of the New Year
Tattered Cover Book Store, The Most Anticipated Debut Books of 2023
Debutiful, The Most Anticipated Debut Books of 2023
GoBookMart, "10 Best Debut Authors of March 2023"
American Booksellers Association, April 2023 Indie Next Pick

"Wandering Souls is more than a story of sacrifice and familial duty. The author has greater ambitions, first signaled in the intricate story structure she builds. . . . What emerges is something special—a polyvocal novel, an essay on inherited trauma and a quiet metafiction about telling stories we don't own."
—Eric Nguyen, New York Times Book Review

"Wandering Souls is immersive, creative and deeply emotional."
—Good Morning America
"The work of mothering often falls to those who are not mothers in the biological sense—a circumstance that's elegantly explored in Cecile Pin's Wandering Souls. . . . With compassion and clarity, Pin describes the ways a family cares for one another in the wake of life-altering tragedy."
—TIME, "8 New Books to Read or Give This Mother's Day"
"Pin movingly explores how their lives are shaped—and warped—by larger historical forces, and then how these lost souls struggle to move through denial and into some tentative form of acceptance."
—Los Angeles Times
"Pin's prose is quietly powerful, her voice assured, her love for this fictional family apparent on every page."
—Star Tribune
"A debut in name only, Wandering Souls is an astute and sure-footed excavation of family, selfhood, and loss in the shadow of colonial violence. It is also a deeply humane and genre-defying work of love and uncompromising hope through a long-overdue portrayal of Vietnamese life in the UK. A mighty achievement."
—Ocean Vuong, New York Times bestselling author of On Earth We're Briefly Gorgeous and Time is a Mother
"A tender and rigorous debut from the new Didion of the Asian diaspora."
—Kirkus Reviews
"Powerful . . . a bold debut that breaks new ground in telling the story of the Vietnamese 'boat people' who landed in Britain, a neglected subject in fiction—until now."
—The Times, UK
"Wandering Souls is a poignant saga with its grieving, beating heart firmly in the right place, and heralds the arrival of an ambitious and promising new talent."
—The Guardian
"[A] powerful and timely debut about seeking asylum; about what a life is when it is ripped from its origins, and how happiness and identity can be found again on foreign shores."
—i Newspaper
"In Wandering Souls, Pin presents a moving depiction of the beauty that comes from stories of perseverance and the healing power that painful memories hold."
—Harvard Crimson Review
"I raced through it. Beautiful, brilliant, unflinching—it deals with family trauma in a way I've been trying to figure out my entire career."
—R. F. Kuang, New York Times bestselling author of Babel
"Wandering Souls is a poetic, heartbreaking, and ultimately triumphant celebration of the human spirit. Casting well-known history in new light, Pin offers a capacious rendering of the love, loss, and hope of migration. Stunning and unforgettable."
—Qian Julie Wang, New York Times bestselling author of Beautiful Country
"Wandering Souls profoundly grapples with how people survive and remake themselves and their communities after tragedy. The novel asks: What does remembrance require? What are the costs of forgetting? And is there such a thing as moving on? Cecile Pin presents no easy answers. Instead, she has created a form to contain all of the contradiction, heartbreak, hope, and tender humanity."
—Nadia Owusu, author of Aftershocks
"Clear-hearted and moving, Wandering Souls tells one of the most important stories of our times, and you can feel, as you read, all it has taken Cecile Pin to write it."
—Lucy Caldwell, author of Intimacies
"Wandering Souls achieves a rare feat, taking a familiar story and making it something entirely new. With language at once both concise and gorgeous, Pin opens a window into questions of duty, identity, and love. Here migration is less a desire for survival than a journey into the thundering heart of family itself, where connection and understanding are hard-won and ultimately redemptive."
—Kawai Strong Washburn, author of Sharks in the Time of Saviours
"A haunting exploration of love and leaving told with a quiet longing that grabs you and doesn't let go. Wandering Souls asks what it takes not only to survive unimaginable loss, but to live through it and thrive. Exceptional."
—Jenny Tinghui Zhang, author of Four Treasures of the Sky
"Wandering Souls is deeply moving and deeply generous. Pin writes about the Vietnamese diaspora in the UK—its past and its present—with love and care. I cried reading it."
—Yara Rodrigues Fowler, author of there are more things
"An affecting and beautiful novel that I will never forget. Cecile Pin has crafted tender and heart-breaking story of a family's journey from Vietnam to the UK, demonstrating the power of human resilience and hope despite losing everything. A must read."
—Sara Jafari, author of The Mismatch
"Meticulously researched and beautifully imagined, Wandering Souls is a deeply affecting debut, a restless inquiry into the nature of loss, kinship and survival."
—Tash Aw, author of We, the Survivors
"How do you carry your ghosts across an ocean? Wandering Souls is a novel about survival and loss and ways they cannot always be untangled. Pin delicately handles the story of lives built despite the greatest of wounds."
—Rowan Hisayo Buchanan, author of Starling Days
"A beautiful meditation on the ties that bind us and the circumstances that separate us. Pin writes of the consequences of war and subsequent displacement with insight and compassion. May this pave the way for more stories that not only open our eyes to the lives of the Vietnamese diaspora but will also enrich our lives in the way Wandering Souls does."
—Helena Lee, editor of East Side Voices
"A searing, sweeping and intimate story of such heart and scope. Measured, multilayered and beautiful. A novel I will remember, and recommend."
—Rachel Long, author of My Darling from the Lions
"The humanity in this novel pulses with tenderness and honesty and blooms from the page like it does in the hearts of these characters. Cecile Pin has delivered a profoundly unforgettable tale."
—An Yu, author of Braised Pork
"A haunting, gut-wrenching story, Wandering Souls is more than a tender portrait of three child-refugees stuck in Lost and Found, and their journeys through our messy, fragmented world. It's a defiant statement about migration, prejudice, and the human spirit for freedom and independence. Cecile Pin summons multi-directional voices to evoke the aftermath of Vietnam War, the refugee camps in Hong Kong and Britain, and the tough urban landscape in which the living negotiate with the dead in order to survive and thrive. It's a brave, vivid, investigative debut that sends shivers up the spine."
—Kit Fan, author of Diamond Hill
"Vietnam's history is at last being written by its people, who were most altered by the war and its aftermath. This deeply affecting novel charts one family's displacement, estrangement, and return: loss passed on like an inheritance to successive generations. Wandering Souls is more than testament, more than fiction. I am full of admiration."
—Jeet Thayil, Booker Prize-shortlisted author of Narcopolis
"An intimate story, a political argument and a reflection on grief and inherited trauma. Wandering Souls is elegant, considered and moving with unusual but perfect form"
—Kate Sawyer, author of The Stranding
"A heartbreaking novel about Vietnamese siblings who arrive as refugees to Thatcher's Britain. Chronicling the family's life right up until the present day, it's a deeply affecting reckoning with history"
—i-D Magazine, Books to watch out for
"Pin's debut follows the siblings into adulthood and parenthood, weaving an unforgettable story of dreams, grief, family, and home."
—Booklist
"I absolutely adored this book—it checks all my boxes of emotionally devastating, exquisitely written, and meticulously structured. I listened to it on audio (which was stunning!) but plan to read it again on the page."
—FictionMatters Newsletter
"[W]hat a stunning novel it is. . . . A poignant and important story . . . written with so much tenderness and sensibility."
—Lit Hub
"Pin whittles down faceless history for us to visualize. . . . Seen up-close and personal, you won't forget Pin's story. Her intention."
—Enchanted Prose
"With urgency and precision, . . . Wandering Souls captures the lives of a family marked by loss yet relentless in the pursuit of a better future . . . establishing Cecile Pin as a masterful new literary voice."
—New Books
"[T]he interweaving perspectives add intricate depth and layers . . . A delight for those who love impeccable storytelling and superb writing."
—Country Bookshelf, newsletter
"With concision and clarity, the author shows a deep understanding of how upheaval can splinter families."
—Publishers Weekly