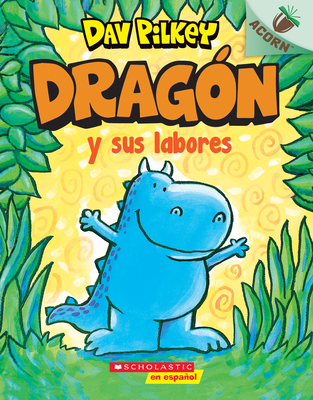 Dragón y sus labores (Dragon Gets By): Un libro de la serie Acorn
Publication Date:
September 7th, 2021
Publisher:
Scholastic en español
Description
From Dav Pilkey, creator of the #1 New York Times bestselling Dog Man and Captain Underpants series, comes Dragon, the heartwarming hero adored by Dav's youngest readers!
Dragón es muy responsable, pero a veces comete errores. Cuando está cansado, ¡por accidente lee un huevo y fríe el periódico de la mañana! Cuando barre el piso no es capaz de barrer todo el polvo y ¡termina abriendo un hueco en la sala! Y cuando va al mercado ¡compra más comida de la que le cabe en el auto! Con su humor y calidez característicos, Dav Pilkey ilustra este lado divertido de las tareas domésticas y la responsabilidad.
¡Esta edición de Acorn tiene contenido nuevo, incluyendo páginas de cómo dibujar!
Dragon is very responsible, but sometimes he makes mistakes. When he's tired, he accidentally reads an egg and fries his morning newspaper! When he sweeps his dirt floor, he can't seem to sweep away all of the dirt and ends up sweeping a hole into the center of his living room! And when Dragon goes grocery shopping, he buys more food than he can fit into his car! Using his trademark humor and heart, Dav Pilkey illustrates the fun side of chores and responsibility.
This Acorn edition contains brand-new bonus content, including how-to-draw pages!