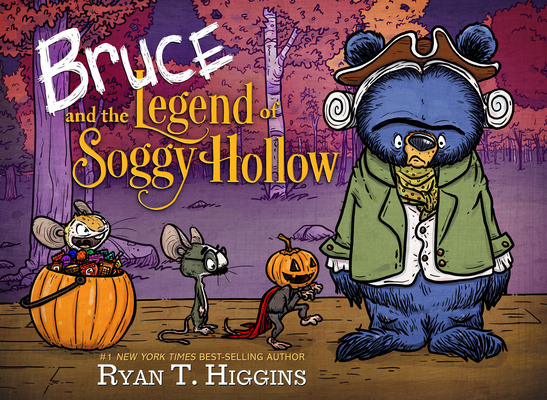 Bruce and the Legend of Soggy Hollow (Mother Bruce Series)
Publication Date:
July 11th, 2023
Publisher:
Disney Hyperion
Usually Ships in 1 to 5 Days
Description
Celebrate all things scary with #1 New York Times best-selling author Ryan T. Higgins's beloved Mother Bruce.
Bruce is a bear who does not like holidays, and he really doesn't like Halloween. His family of mice and geese decides the only way to get Bruce excited about Halloween is to tell a scary story. 
But their campfire tale takes a turn when a ghostly visitor appears. Will Bruce get in the Halloween spirit? Or will the Halloween spirit get Bruce?
Read all the Mother Bruce books!
Picture Books:
Mother Bruce
Hotel Bruce
Bruce's Big Move
Santa Bruce
Bruce's Big Storm
The Bruce Swap
Hey, Bruce!
Be Quiet
Board Books:
1 Grumpy Bruce
Peek-a-Bruce
Little Bruce Books:
Spring Stinks
Thanks for Nothing!
Out Cold
Early Readers:
Bruce's Big Fun Day
Ballet Bruce
Praise for Bruce and the Legend of Soggy Hollow (Mother Bruce Series)
Halloween? Bah, humbug! Everyone's favorite curmudgeonly bear, Bruce, is predictably irritated to find that his least favorite holiday, Halloween, is coming up. Tricks, treats, and visitors? Bruce is not impressed. His chosen family of mice and geese completely disagrees and, to inspire him, decides to dress up and act out a scary story ("The Legend of Soggy Hollow," featuring the Horseless Horseman), with our ursine protagonist in the role of schoolteacher Ichabod Bruce. Text bubbles and boxes further develop the story of these charming characters as they embark, albeit less than happily in the case of Bruce, on a performance that is dramatic, mysterious, and laugh-out-loud funny. Higgins' quirky sensibility is as comical and appealing as ever, and his illustrations are full of kid-friendly and engaging details. Bruce's unwilling foray into acting—which involves a meetup with a possible ghost and an attempt to escape the amorous moose playing his love interest—will have readers dissolving into giggles. They'll delight in the humor of Bruce's less-than-enthusiastic participation, and the story wraps up with a ghostly—but fun—twist. This is a feel-good and funny choice, perfect for Halloween or any time of the year. (This book was reviewed digitally.) Laughter abounds in this spirited tale with a sprinkle of spookiness. (Picture book. 3-8)- Kirkus (May 15, 2023)