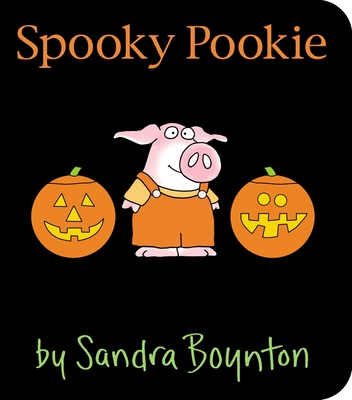 Spooky Pookie (Little Pookie)
Publication Date:
July 25th, 2017
Publisher:
Boynton Bookworks
Usually Ships in 1 to 5 Days
Description
Pookie gets dressed up for Halloween in this silly board book from bestselling author Sandra Boynton.
What will little Pookie decide to be for Halloween this year? Pookie tries on costumes one by one, but somehow can't find the right thing. The resolution to Pookie's dilemma will delight toddlers and their caregivers alike. Told with Sandra Boynton's charm and pizzazz, Spooky Pookie is a Halloween classic. Boo!
Tonight when it's dark
we will walk down our street.
We will visit our friends.
You can say, "Trick or Treat!"
Praise for Spooky Pookie (Little Pookie)
"It's Halloween time, and Pookie the pig is delighted…Boynton dresses Pookie in a series of cheerful costumes, including a dragon, a bunny, and even a caped superhero. Pookie eventually settles on the holiday classic, a ghost, by way of a bedsheet…Little readers will enjoy the notion of transforming themselves with their own Halloween costumes while reading this book, and a few parents may get some ideas as well. Boynton's clean, sharp illustrations are as good as ever."
— Kirkus Reviews
"Boynton's Little Pookie is celebrating Halloween, and picking a costume is proving difficult. Lively rhymes list off the options Mom offers ("A clown would be funny./ A pumpkin is cute./ You would make a fine bunny/ in the white bunny suit") as Little Pookie raids the costume chest. The final selection—a classic white-sheet ghost outfit—proves frightening enough to scare Mom, so it's the clear winner. It's a fun Halloween diversion that should easily please Little Pookie's (and Boynton's) many devotees."
— Publishers Weekly