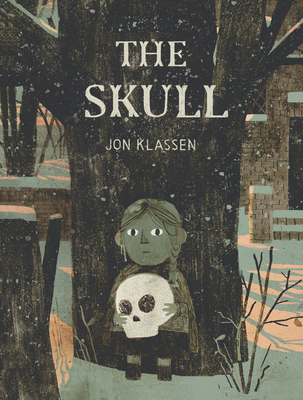 The Skull: A Tyrolean Folktale
Publication Date:
July 11th, 2023
Usually Ships in 1 to 5 Days
An oddly delightful and delightfully odd story that is wonderfully drawn and concisely told. Follow our runaway heroine as she happens upon a kindred spirit embodied (or, disembodied) in a skull. Witty, with a dash of dark humor.
July/August 2023 Kids Indie Next List
Description
A #1 New York Times bestseller!
A Kirkus Book Prize Finalist!
A New York Times Best Children's Chapter Book the Year
A Wall Street Journal Best Children's Book of the Year
Caldecott Medalist and New York Times best-selling author-illustrator Jon Klassen delivers a deliciously macabre treat for folktale fans.
Jon Klassen's signature wry humor takes a turn for the ghostly in this thrilling retelling of a traditional Tyrolean folktale. In a big abandoned house, on a barren hill, lives a skull. A brave girl named Otilla has escaped from terrible danger and run away, and when she finds herself lost in the dark forest, the lonely house beckons. Her host, the skull, is afraid of something too, something that comes every night. Can brave Otilla save them both? Steeped in shadows and threaded with subtle wit—with rich, monochromatic artwork and an illuminating author's note—The Skull is as empowering as it is mysterious and foreboding.
Praise for The Skull: A Tyrolean Folktale
Folk tales are meant to be flexible things, open-source stories infinitely moldable to the needs of teller and era. That's the wonder of them — and of "The Skull," an old Tyrolean yarn distilled to its droll essentials and marvelously reimagined by the Caldecott medalist (and national treasure) Jon Klassen. . . The pared-back, ocher-tinted illustrations are well suited to the folk-tale form, and pair perfectly with Klassen's deceptively simple storytelling.
—The New York Times Book Review
Caldecott medalist Klassen's signature style is brought to bear on a Tyrolean tale imbued with equal parts comfort and creepiness. . . . One can only hope that children will tell and retell this reinterpretation many times to themselves throughout the years. Employing his customary pitch-perfect tonal gymnastics, only Klassen could inspire readers to want craniums as pals.
—Kirkus Reviews (starred review)
Echoes of other forbidding fairy tales pervade this high-stakes telling, in which Otilla's primal bravery and sly wit result in an arc from flight to mutual reliance.
—Publishers Weekly (starred review)
Klassen's recognizable graphite-and-ink illustrations capture the haunting—yet somehow charming—atmosphere of the stark Austrian setting, where shadows loom, bones come to life, and apricot sunshine cuts through the gloom. . . . Is the story creepy? You bet, but it's also weirdly sweet and characterized by agency, kindness, and choice. . . . Klassen's newest offering will be highly coveted.
—Booklist (starred review)
Klassen has proved especially good at introducing new, often solo, young readers to the unsettling but intriguing place where fear becomes an essential narrative element, offering enough humor and absurdity to provide comfort on the journey. Such is the case with The Skull, a reimagining of a Tyrolean folktale that shows a young girl's resolve against unnamed, unexplained threats. . . . the book offers a lesson on the usefulness of fear and likely a reminder of what kids already suspect: the world can be awful and scary, but empathy and friendship can arise from its darkest places.
—The Bulletin of the Center for Children's Books (starred review)
Unflappable Otilla and the unfailingly polite skull make for odd but exemplary companions in this well-paced tale. . . . illustrated in classic, deadpan Klassen style with speckled art that's both mesmerizing and dryly hilarious. The dark tones of the art are warmed by slants of peach-hued winter sunlight; like the scary-funny story, darkness and light work in tandem ­surprisingly well.
—The Horn Book (starred review)
Author/illustrator Jon Klassen takes an especially dark turn in an unconventional folk tale for hardy early readers, The Skull, a morbid yet profoundly affectionate chapter book about a girl and her bony companion. . . .The gripping art melds brilliantly with emotionally hefty text to strike an overwhelmingly eerie and foreboding tone, which plays in exquisite contrast to the blooming solidarity between Otilla and the skull. . . . Make no bones about it, this is a wholly distinctive and delightfully unsettling creation.
—Shelf Awareness (starred review)
Readers can enjoy a quick read, the implementation of interesting literary elements, and the humor that we have come to know from Klassen.
—School Library Connection
[A] droll and delicious tale. . . Any disquiet that children ages 6-10 might harbor about a talking skull will dissipate in the light of the skull's friendly attitude and gracious manners.
—The Wall Street Journal
Gifted author-illustrator Jon Klassen offers a wonderfully eerie version of an old folktale, illustrated with his distinctive somber graphite and ink artwork in black and white and muted tones of sepia, rose and blue and printed in large type with short chapters that should appeal to beginning readers.
—The Buffalo News
Jon Klassen brings his droll humor and just the right amount of spine-tingling creepiness to this retelling of a Tyrolean folktale. . . . Klassen uses his spare text to great effect and the mostly monochromatic illustrations provide just the right eerie echo. This is a book sure to be read over and over and over again. Even the most reluctant reader will be eager to keep these pages turning.
—The New York Journal of Books
This delightfully dark picture book retells a Tyrolean folk tale of the same name. . . . This is a longer-than-average picture book — much like Klassen's previous picture book The Rock from the Sky — with Klassen's trademark dark humor. . . . Fairy tale and horror readers of all ages will love it.
—Book Riot