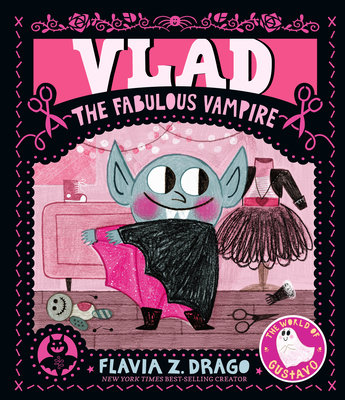 Vlad, the Fabulous Vampire (The World of Gustavo)
Publication Date:
September 12th, 2023
Description
From the acclaimed author-illustrator of Gustavo, the Shy Ghost comes a charmingly spooky celebration of difference sure to resonate with parents and children alike.
Vlad is a vampire with the misfortune of having rosy cheeks that—gasp!—make him look abysmally alive. But being the fabulous vampire that he is (and hoping to avoid rejection), he hides his rosy complexion behind elaborate vampire outfits in traditional black. That is, until he finds out that his best friend has a pink secret of her own . . . With signature flair, Flavia Z. Drago offers a story about being yourself and finding your community, strikingly illustrated in a distinctive, detailed art style influenced by her Mexican heritage.
Praise for Vlad, the Fabulous Vampire (The World of Gustavo)
The message of celebrating differences is solid. . . The prose allows the charming, expressive cartoon art free rein in creating a world with a Halloween goth look. Affirming. . . strengthened by a lovable aesthetic.
—Kirkus Reviews
Drago (Gustavo, the Shy Ghost, rev. 9/20; Leila, the Perfect Witch, rev. 9/22) presents another offbeat, sympathetic, supernatural character overcoming insecurities. . . . the text is lighthearted, and the detail-filled mixed-media illustrations display energy-and style.
—The Horn Book
Drago mixes cartoon and folk-art style illustrations influenced by her Mexican heritage to expand the World of Gustavo series with a young vampire and his fashion prowess. Mixed-media techniques add textures and shapes to the elaborate clothing and accessories while brighter colors contrast neutral backgrounds, especially emphasizing the pink shade rosa mexicano (Mexican pink) in Vlad's cheeks to convey his feelings. . . . Fans of Drago's books will also find charming character cameos from her previous works in this new addition celebrating how 'it's better to love what makes us unique!'
—The Bulletin of the Center for Children's Books
Drago's illustrations are full of fun details and muted shades with touches of color (pinks, of course), making this picture book a fabulous new addition to bookshelves this Halloween and beyond. You also don't want to miss Drago's Gustavo, the Shy Ghost and Leila, the Perfect Witch.
—Amazon Book Review