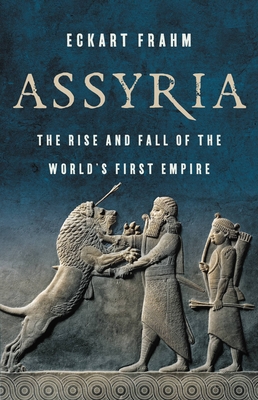 Assyria: The Rise and Fall of the World's First Empire
Publication Date:
April 4th, 2023
Usually Ships in 1 to 5 Days
Description
A new history of Assyria, the ancient civilization that set the model for future empires 
 
At its height in 660 BCE, the kingdom of Assyria stretched from the Mediterranean Sea to the Persian Gulf. It was the first empire the world had ever seen. Here, historian Eckart Frahm tells the epic story of Assyria and its formative role in global history. Assyria's wide-ranging conquests have long been known from the Hebrew Bible and later Greek accounts. But nearly two centuries of research now permit a rich picture of the Assyrians and their empire beyond the battlefield: their vast libraries and monumental sculptures, their elaborate trade and information networks, and the crucial role played by royal women.  
 
Although Assyria was crushed by rising powers in the late seventh century BCE, its legacy endured from the Babylonian and Persian empires to Rome and beyond. Assyria is a stunning and authoritative account of a civilization essential to understanding the ancient world and our own. 
Praise for Assyria: The Rise and Fall of the World's First Empire
"A sweeping, delightfully readable effort to remind us of Assyria's place in history…Mr. Frahm balances a clear-eyed account of Assyria's gruesome politics with empathetic portraits of everyday life."—Wall Street Journal
"A work of remarkable synthesis. The range of its sources is truly extraordinary."—Times (London)
"A remarkable scholarly work and a masterful exploration of one of the most intriguing and influential civilizations of the ancient world…an essential addition to the libraries of history enthusiasts and scholars alike."—World History
"Sweeping in scope yet meticulously detailed, this is a worthy introduction to a significant yet lesser-known chapter of ancient history."—Publishers Weekly
"An extremely readable introduction to Assyria and the Assyrians, from their origins to their ultimate demise. Frahm presents a wealth of knowledge and information in an accessible manner, and with relevance to today, which will be of interest to scholars, students, and members of the general public alike."—Eric Cline, author of 1177 B.C.
"Eckart Frahm has produced a compelling account of how the Assyrians built an empire that ruled over large territories and diverse peoples. Assyria offers us a new way to think about the formation and sustainability of an imperial model that has shaped human experiences for much of the past 3000 years. It is ancient history that remains relevant to this day."—Edward J. Watts, author of Mortal Republic
"A superb, compelling, and exuberantly written history of the Assyrians, popularly known only as the bad guys of the Old Testament, but actually one of the most significant of all ancient Near Eastern empire builders. This book is filled with fascinating detail and cliché-busting analysis. Sweeping yet nuanced, Eckart Frahm challenges—and changes—the way we think about the Assyrians and the culture they fashioned."—Lloyd Llewellyn-Jones, author of Persians
"Eckart Frahm has given us a history which jumps with life. From Assyria's humble origins at mercantile Ashur to the smoking ruins of imperial Nineveh, Frahm animates a lost world with the authority and the eye of a master painter. This is Assyria with all its jealous princes, scheming viziers, exorcists, rebels, and vassals—its glittering palaces, besieged cities, and vast borderlands. Readers can rejoice knowing they hold in their hands a book both definitive and compelling."—Seth Richardson, University of Chicago
"Eckart Frahm's eminently readable Assyria is the most comprehensive account to date of the world's first true empire. It will transform how we approach Assyria and its role in history."—Gojko Barjamovic, Harvard University