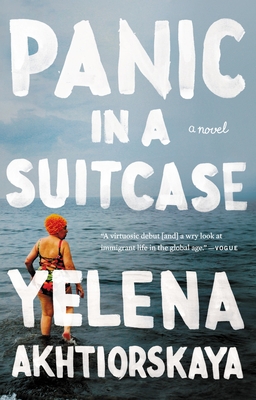 Panic in a Suitcase: A Novel
Publication Date:
August 4th, 2015
Publisher:
Riverhead Books
Description
"A virtuosic debut [and] a wry look at immigrant life in the global age." —Vogue
 
Having left Odessa for Brighton Beach, Brooklyn, with a sense of finality, the Nasmertov family has discovered that the divide between the old world and the new is not nearly as clear-cut as they had imagined. With the collapse of the Soviet Union, returning is just a matter of a plane ticket, and the Russian-owned shops in their adopted neighborhood stock even the most obscure comforts of home. Pursuing the American Dream once meant giving up everything, but does the dream still work if the past refuses to grow distant and mythical, remaining alarmingly within reach?
 
If the Nasmertov parents can afford only to look forward, learning the rules of aspiration, the family's youngest, Frida, can't help looking back—and asking far too many questions.
 
Yelena Akhtiorskaya's exceptional debut has been hailed not only as the great novel of Brighton Beach but as a "breath of fresh air … [and] a testament to Akhtiorskaya's wit, generosity, and immense talent as a young American author" (NPR).
Praise for Panic in a Suitcase: A Novel
Praise for Panic in a Suitcase
 
"Sentence for sentence, this is the wittiest, most intelligent book by a first-time author I've read in a long time." —Aleksandar Hemon, The Week
"Brilliant and often funny … the kind of fiction that is richer than real life." —The New York Times
 
"This is the great immigrant story drained of its inspirational hype. . . . One wonders if Akhtiorskaya hasn't descended from some unacknowledged Russian branch of Kingsley Amis's family. . . . Genius." —The Washington Post