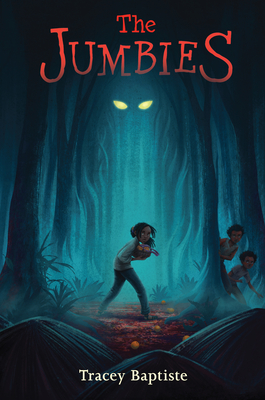 The Jumbies
Publication Date:
April 28th, 2015
Publisher:
Algonquin Young Readers
Usually Ships in 1 to 5 Days
Description
The jumbies are coming!
Corinne La Mer isn't afraid of anything. Not scorpions, not the boys who tease her, and certainly not jumbies. She knows that jumbies aren't real; they're just creatures parents make up to frighten their children. But on All Hallows' Eve, Corinne chases an agouti all the way into the forbidden woods. Those shining yellow eyes that follow her to the edge of the trees, they couldn't belong to a jumbie. Or could they?
Corinne begins to notice odd occurrences after that night. First she spots a beautiful stranger speaking to the town witch at the market. Then this same beauty, called Severine, turns up at Corinne's house, cooking dinner for her father. Danger is in the air. Sure enough, bewitching Corinne's father is the first step in Severine's plan to claim the entire island for the jumbies. Corinne must call on her courage and her friends and ancient magic to stop Severine and to save her island home.
Praise for The Jumbies
"Tracey Baptiste scares up new audiences to learn about jumbies . . . She builds a fairy tale about a brave girl and her adventures among Caribbean creatures."—Washington Post
 
"A scary but cheerful tale that draws on Caribbean folk traditions. A great update on the "town under supernatural attack" story, with a marvelous setting."—Baltimore Sun
 
"The Jumbies starts off with a chase and leaves the reader wanting more, in a very good way." —Bustle
 
 "Far more than just your average spooky supernatural story, Baptiste uses the underpinnings of a classic folktale to take a closer look at colonization, rebellion, and what it truly takes to share the burden of tolerating the "other". Plus there are monsters. Gotta love the monsters." —Elizabeth Bird, Fuse 8
 
 "Entrancing and engaging, frightening but never slacking, Baptiste enters an all-new folktale adaptation into our regular fantasy lore. Best suited for the kids seeking lore where creatures hide in the shadows of trees, but where they're unlike any creatures the kids have seen before. Original. Haunting." —Elizabeth Bird, Fuse 8
 
"Endlessly addictive and hypnotic"—Essencemagazine
 
"The themes of fairness, justice, and retribution meld into a better than average evil witch story . . . This is a well written tale full of action with enough scary elements to satisfy fans of Adam Gidwitz's A Tale Dark and Grimm or Laura Amy Schlitz's Splendors and Glooms."—School Library Journal
 
"Baptiste's story, based on a Haitian folktale, is action-packed and original with an appealing cast of characters."—The Horn Book Guide
 
"A spine-tingling tale rooted in Caribbean folklore that will have readers holding their breath as they fly through its pages. Be forewarned! This tale isn't some cozy, tropical vacation and it's not for the weak at heart, oh, no! If you like spooky tales, this is the book for you.  Corinne's story is truly a welcome and refreshing edition to the world of fairytales."—Valerie R. Lawson
 
"This girl's got guts. Even as she wanders the mystery-shrouded forest full of creepy-crawlies from Haitian folklore and faces up to the frightening newcomer to her village, Corrine La Mer brings badassery and wisdom beyond her years. Launching brave kids into the world of the horror novel, and leading them through it with lyrical prose, author Tracey Baptiste knows just how to seize kids' attention."—Foreword Reviews
 
"It's refreshing to see a fantasy with its roots outside Europe . . . this is a book worth reading simply for its originality."—Kirkus Reviews