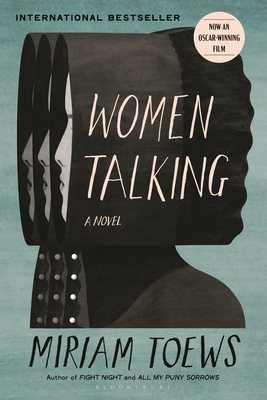 Women Talking
Publication Date:
March 3rd, 2020
Publisher:
Bloomsbury Publishing
Usually Ships in 1 to 5 Days
Women Talking is an eloquent exploration of how a group mind coalesces — as a kind of vision that comes in fits and starts, arguments and digression — to finally arrive at a decision. Or, read another way, it's a compelling examination of the opposing voices in our own heads as we wrestle with impossible choices between the known and the unknown. What's most compelling about Toews' novel is its lack of sensationalism and how it shows real people struggling through the aftermath of devastating violence. Grounded in a religious culture where suffering and obedience are an expectation, these women grapple with uneasy answers to what's best for themselves and their children. Women Talking is the quiet, startling story of coming to terms with how, or if, we save ourselves.
April 2019 Indie Next List
Description
The basis of the Oscar-winning film from writer/director Sarah Polley, starring Rooney Mara, Claire Foy, Jessie Buckley, with Ben Whishaw and Frances McDormand.
INTERNATIONAL BESTSELLER
"This amazing, sad, shocking, but touching novel, based on a real-life event, could be right out of The Handmaid's Tale." —Margaret Atwood, on Twitter
"Scorching . . . a wry, freewheeling novel of ideas that touches on the nature of evil, questions of free will, collective responsibility, cultural determinism, and, above all, forgiveness." —New York Times Book Review, Editors' Choice
One evening, eight Mennonite women climb into a hay loft to conduct a secret meeting. For the past two years, each of these women, and more than a hundred other girls in their colony, has been repeatedly violated in the night by demons coming to punish them for their sins. Now that the women have learned they were in fact drugged and attacked by a group of men from their own community, they are determined to protect themselves and their daughters from future harm.
While the men of the colony are off in the city, attempting to raise enough money to bail out the rapists and bring them home, these women—all illiterate, without any knowledge of the world outside their community and unable even to speak the language of the country they live in—have very little time to make a choice: Should they stay in the only world they've ever known or should they dare to escape?
Based on real events and told through the "minutes" of the women's all-female symposium, Toews's masterful novel uses wry, politically engaged humor to relate this tale of women claiming their own power to decide.
Praise for Women Talking
"A feminist manifesto that delicately unwraps the horror, but also bubbles with the love and wry humor that has endeared Toews to her readers . . . Toews' celebrated novels are haunted by her upbringing, but she has never written with such heartbreak, or taken such sure aim at fundamentalism and its hypocrisies, as she does in her new book, Women Talking. . . Did I mention the book is funny? Wickedly so, with Toews's brand of seditious wit" — The New York Times
"Miriam Toews is wickedly funny and fearlessly honest… She is an artist of escape; she always finds a way for her characters, trapped by circumstance, to liberate themselves." — The New Yorker
"Astonishing . . . a work of deep moral intelligence, a master class in ethics beautifully dressed as a novel. . . . The intelligence on display in Women Talking is as ferocious as it is warm." — NPR.org
"Lean, bristling . . . a remarkably layered and gripping story. . . The book's confined setting and its tight timeframe combine to superb dramatic effect." — Wall Street Journal
"Astonishing . . . Toews, who has written often about her own Mennonite history, has told a riveting story that is both intensely specific and painfully resonant in the wider world. Women Talking is essential, elemental." — USA Today
"An astonishment, a volcano of a novel with slowly and furiously mounting pressures of anguish and love and rage. No other book I've read in the past year has spoken so lucidly about our current moment, and yet none has felt as timeless; the always-wondrous Miriam Toews has written a book as close to a Greek tragedy as a contemporary Western novelist can come." — Lauren Groff, author of Fates and Furies and Florida
"If there's any book published in 2019 that will endure as a masterpiece in the years to come, it's... Women Talking. " — The AV Club
"Tender and funny... Distinct and alive." — Leslie Jamison, Bookforum
"[A] powerful and important book." — Real Simple
"Draws us into the lives of obscure people and makes their survival feel as crucial and precarious as our own." — The Washington Post
"Sharp and devastating… a testament to the power of women's collective voices." — Buzzfeed
"Astonishing . . . Toews interjects a wry humor into these pages, a reflection of her characters and their outlook on life, at once earnest and ironic. . . . You leave a novel about violence and misogyny lifted up by the women and strangely hopeful." —Newsday