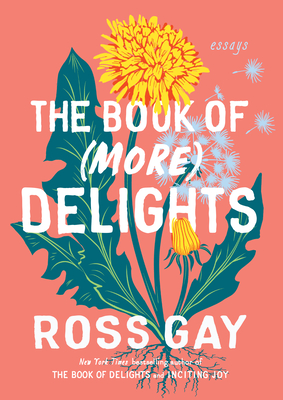 The Book of (More) Delights: Essays
Publication Date:
September 19th, 2023
Publisher:
Algonquin Books
Usually Ships in 1 to 5 Days
Oh, to have delights again! No one writes about the dearness of our human frailty with the generosity and good humor of Ross Gay. I can't wait to wear these delights out to the same degree as the first, and become more present in doing so.
September 2023 Indie Next List
Description
The New York Times bestselling author of The Book of Delights and Inciting Joy is back with exactly the book we need in these unsettling times.
"Yes, please. I'll have another dose of delight." —Margaret Roach, New York Times
In Ross Gay's new collection of small, daily wonders, again written over the course of a year, one of America's most original voices continues his ongoing investigation of delight.
For Gay, what delights us is what connects us, what gives us meaning, from the joy of hearing a nostalgic song blasting from a passing car to the pleasure of refusing the "nefarious" scannable QR code menus, from the tiny dog he fell hard for to his mother baking a dozen kinds of cookies for her grandchildren. As always, Gay revels in the natural world—sweet potatoes being harvested, a hummingbird carousing in the beebalm, a sunflower growing out of a wall around the cemetery, the shared bounty from a neighbor's fig tree—and the trillion mysterious ways this glorious earth delights us.
The Book of (More) Delights is a volume to savor and share.
Praise for The Book of (More) Delights: Essays
"Ross Gay is back, better than ever . . . This time he swings his basket higher, slower, for a whole new bevy of brainy and witty noticings."​—Garden & Gun
Named a Best/Most Anticipated Book of Fall/2023 by TIME.com, Kirkus Reviews, Publishers Weekly, Book Riot, Christian Science Monitor, & more!
"Yes, please. I'll have another dose of delight."—Margaret Roach, The New York Times
"[Gay] rejoices in the fleeting pleasures of everyday life. …heartfelt… [He] calls on us to marvel at nature's small wonders and remember that we're all connected."—Washington Post
"Another startling, sensuous collection of miniature essays... again and again, joy wins out over despair as Gay pays tribute to a world of people "'bumbling, flailing, hurting, failing, changing.'"—Booklist
"Keenly observed and delivered with deftness, these essays are a testament to the artfulness of attention and everyday joy."—Kirkus Reviews
"Gay's work never sugar coats the difficulties or fragility of life, but it is still so hopeful."  —Wild Geese Bookshop—USA Today
"Gay proves that he's able to endlessly expand on any minute detail of life in a way that's not only interesting, but that's often profound, open-ended, and sometimes even revelatory. It's clear that these 'delights' are a gift not only for the author himself but also for every one of the readers he touches."—Shondaland
"Ross Gay, and I will praise him forever, is a beautiful writer who reminds us of the beauty in small, everyday things."—Ann Patchett, The Skimm
"A feel-good book... [it] expertly whisks readers away to simpler times. The book's happy, worry-free vibes make it the ultimate vacation read, no matter the time of year."—Travel & Leisure
"His delightful observations of everyday life are a reminder that joy is all around us, we just have to be willing to look for it"—TIME.com
"His delightful observations of everyday life are a reminder that joy is all around us, we just have to be willing to look for it"—TheRoot.com
"Contains many delightful, ordinary joys."—The Presbyterian Outlook
"Ross Gay follows up his 2019 bestseller, The Book of Delights, with another collection of charming essays as quirky, engaging, and wryly humorous as the first. These reflections on what makes life meaningful offer a provocative episodic read."—Christian Science Monitor
"Enormously delightful. Gay is a master at amplifying the delights all around us"—Literary Hub
"Enchanting… These unforgettable vignettes will enhance readers' appreciation for their own surroundings." —Publishers Weekly
"This trilogy of titles help us understand each other, the world, and our place in it."—Barnes & Noble Reads
"A refreshing reminder that joy surrounds us everywhere"—Bookreporter.com
"A lovely book continuing his celebration of the everyday delights! Staff recommended! Highly! Happily!"—My Edmund News
"Gay's work is a reminder of all things tiny and beautiful, small but miraculous, ordinary yet magical. Read The Book of (More) Delights. It will grant you some gorgeous silence."—Brown Daily Herald
"Heartening. Informal yet inspired, off-the-cuff yet beautifully composed… The Book of (More) Delights provides abundant avenues to appreciate our world."—BookPage
"Beautifully written and a balm for our times."—Toronto Star
"Short essays with wonderfully playful writing that made me feel understood while also providing a new way to see the world. ...simultaneously unique and relatable... Something to keep stashed away for when you need a quick pick-me-up."—St. Louis Public Radio