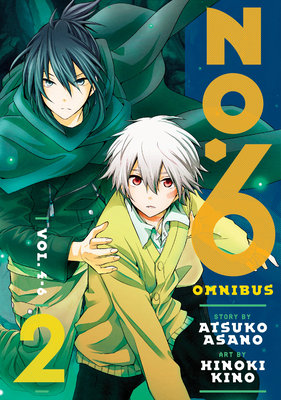 NO. 6 Manga Omnibus 2 (Vol. 4-6)
Publication Date:
March 28th, 2023
Publisher:
Kodansha Comics
Usually Ships in 1 to 5 Days
Description
The classic dystopian manga returns! Experience the story of two boys who uncover a terrible conspiracy and turn City No. 6 on its head, in three collectible 3-in-1 omnibus editions featuring extra-large pages.
Includes volumes 4-6.
"THIS IS NO HOLY CITY. IT'S A MONSTER..."
The classic dystopian manga returns in three 3-in-1 omnibus editions! After stumbling across his childhood friend Safu's favorite coat on the streets of West Block, Shion learns that she has been arrested and imprisoned in No. 6's infamous Correctional Facility. He sets out alone to save her, but the ever-watchful Rat has other plans. Meanwhile, No. 6 prepares to launch a host of soldiers and armored vehicles in a manhunt through West Block. Shion's and Rat's fates grow ever more tightly intertwined as they embark on an impossible mission to No. 6, where Shion will learn the ugly history behind the "perfect" city.