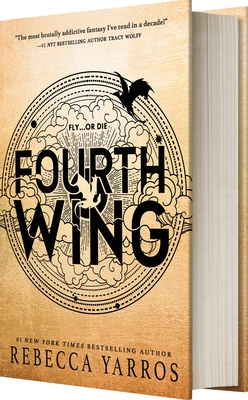 Fourth Wing (The Empyrean #1)
Publication Date:
May 2nd, 2023
Publisher:
Entangled: Red Tower Books
Usually Ships in 1 to 5 Days
Description
A #1 New York Times bestseller • Optioned for TV by Amazon Studios • Amazon Best Books of the Year, #4 • Apple Best Books of the Year 2023 • Barnes & Noble Best Fantasy Book of 2023 • NPR "Books We Love" 2023 • Audible Best Books of 2023 • Hudson Book of the Year • Google Play Best Books of 2023 • Indigo Best Books of 2023 • Waterstones Book of the Year finalist • Goodreads Choice Award, semi-finalist • Newsweek Staffers' Favorite Books of 2023 • Paste Magazine's Best Books of 2023
"Suspenseful, sexy, and with incredibly entertaining storytelling, the first in Yarros' Empyrean series will delight fans of romantic, adventure-filled fantasy." —Booklist, starred review
"Fourth Wing will have your heart pounding from beginning to end... A fantasy like you've never read before." ―#1 New York Times bestselling author Jennifer L. Armentrout
Enter the brutal and elite world of a war college for dragon riders from New York Times bestselling author Rebecca Yarros
Twenty-year-old Violet Sorrengail was supposed to enter the Scribe Quadrant, living a quiet life among books and history. Now, the commanding general—also known as her tough-as-talons mother—has ordered Violet to join the hundreds of candidates striving to become the elite of Navarre: dragon riders.
But when you're smaller than everyone else and your body is brittle, death is only a heartbeat away...because dragons don't bond to "fragile" humans. They incinerate them.
With fewer dragons willing to bond than cadets, most would kill Violet to better their own chances of success. The rest would kill her just for being her mother's daughter—like Xaden Riorson, the most powerful and ruthless wingleader in the Riders Quadrant.
She'll need every edge her wits can give her just to see the next sunrise.
Yet, with every day that passes, the war outside grows more deadly, the kingdom's protective wards are failing, and the death toll continues to rise. Even worse, Violet begins to suspect leadership is hiding a terrible secret.
Friends, enemies, lovers. Everyone at Basgiath War College has an agenda—because once you enter, there are only two ways out: graduate or die.
The Empyrean series is best enjoyed in order.
Reading Order:
Book #1 Fourth Wing
Book #2 Iron Flame
Praise for Fourth Wing (The Empyrean #1)
"A fantasy like you've never read before." —Jennifer L. Armentrout, #1 New York Times bestselling author
"Smart-ass. Bad-ass. Kick-ass. One helluva ride!" —Tracy Wolff, #1 New York Times bestselling author
"Utterly addictive and completely unputdownable. I devoured every page and fell hopelessly, desperately in love with these characters and the incredible world Rebecca Yarros has so carefully, lovingly crafted. Hands down the best book hangover I've ever experienced. I can't wait for more!" —Helena Hunting, New York Times bestselling author
"An exhilarating dragon ride of a fantasy! Brutal, fast-paced, compelling, and simmering with romantic tension that left me on the edge of my seat. Fourth Wing is everything I want in a book and more. Phenomenal! Move this one to the top of your TBR." —Samantha Young, New York Times and USA Today bestselling author
"Buckle up because with nonstop action, sizzling romance, and the BEST DRAGONS EVER, you will not be able to put down Fourth Wing until the last page is turned. It's a wild, sexy, roller coaster of a ride." —Mary E. Pearson, New York Times bestselling author
"Dragons and war, passion and power…Fourth Wing is dazzling. Rebecca Yarros has created a world as compelling as it is deadly, and I can't wait to see where she takes it next." —Nalini Singh, New York Times bestselling author

"This book should come with a warning label, because once you start it, you won't stop until you reach the final page. Forbidden romance that simmers off the page; relentless, heart-stopping action; and a delicious, morally gray hero—this is the book I've been waiting for!" —Geneva Lee, New York Times bestselling author
"Fourth Wing is an unforgettable adventure from cover to cover. I cheered, laughed, grinned, and refused to put it down. This expertly crafted romantic fantasy is sure to launch the beginning of a brand-new insatiable fandom!" —Lexi Ryan, #1 New York Times bestselling author
"Kapow, what a story! In Fourth Wing, Rebecca Yarros gives you gutsy young heroines and sexy bad boys living in a world where no one—not even the mightiest dragon—is safe. This is some sharp, bold, and delicious storytelling!" —Rachel Howzell Hall, New York Times bestselling author
"House of the Dragon meets Divergent in this utterly thrilling, unputdownable new fantasy! Fourth Wing is full of scintillating adventure, soaring dragon flight, and slow-burn, enemies-to-lovers romance. Climb on and enjoy the ride!" —Amalie Howard, USA Today bestselling author
"As smoldering as it is spellbinding, Fourth Wing is a thrilling, dragon-filled delight!" —Cindi Madsen, USA Today bestselling author
"Rebecca Yarros's Fourth Wing kept me up at night whispering "one more chapter" until suddenly the sun was rising—and even then I still couldn't bring myself to stop. Utterly immersive, fiercely romantic, and unforgivably addictive, this book is a spectacular masterpiece and my new fantasy obsession." —Lynette Noni, Australia's #1 young adult fiction author
"An expertly woven tale in a riveting world of dragons, life-or-death competition, and betrayal, Rebecca Yarros hits all the high notes and delivers a thrilling new romantic fantasy that readers will devour." —K.A. Tucker, international bestselling author