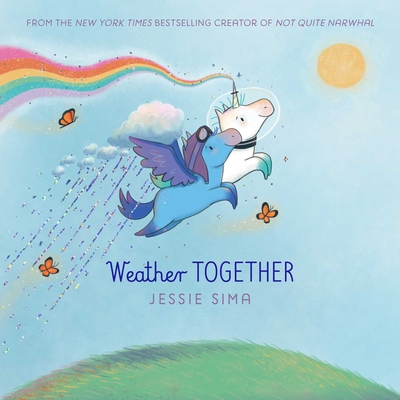 Weather Together (Not Quite Narwhal and Friends)
Publication Date:
May 2nd, 2023
Publisher:
Simon & Schuster Books for Young Readers
Usually Ships in 1 to 5 Days
Sima hits it out of the park yet again with a sweet tale of friendship and understanding. A reminder that feelings can be overwhelming, and not always fun, but they are part of us — most of all, shared feelings are always better than hidden ones.
May/June 2023 Kids' Indie Next List
Description
Nimbus learns how to weather her cloudy moods and accept help from her best friend, Kelp, in this charming and gently encouraging picture book companion to the New York Times bestselling Not Quite Narwhal and Perfectly Pegasus.
Nimbus has so much fun being Kelp's friend! Their days are filled with games, sunshine, and a whole lot of rainbows. Only, Nimbus can't stay sunny all the time; in fact, some days she's downright cloudy.
Nimbus hides her cloud from Kelp and tries to make it go away, only nothing works! Not ignoring the cloud, not running from the cloud, and not bottling up the cloud. It just grows and grows.
And when Nimbus's cloud turns into a storm, there's no way to keep it from others anymore. But maybe getting to know her cloud could make it a little less scary…and maybe friends like Kelp are there to share the weather together.
Praise for Weather Together (Not Quite Narwhal and Friends)
"Weathers heavy themes with breezy sensitivity…and unicorns!"
— -Kirkus Reviews