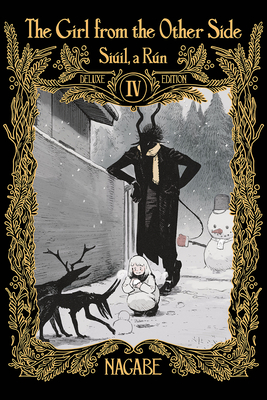 The Girl From the Other Side: Siúil, a Rún Deluxe Edition IV (Vol. 10-11+EX Hardcover Omnibus)
Publication Date:
September 26th, 2023
Usually Ships in 1 to 5 Days
Description
ASHES TO ASHES
Shiva has escaped, thanks to the king of the Inside's agonizing decision to betray his kingdom. Now, with locket in hand, Shiva has returned to the cottage to rejoin Teacher. What she discovers there will bring her to tears as an unimaginable truth comes to light.
Nagabe's haunting, bestselling manga series has captivated critics and general audiences from its debut to its conclusion, inspiring an animated short film and a successful crowdfunding campaign for a feature-length anime. This final deluxe edition hardcover collects the final two volumes of the original manga and the special short story volume with color inserts and an exclusive cover by Nagabe.
The final volume!