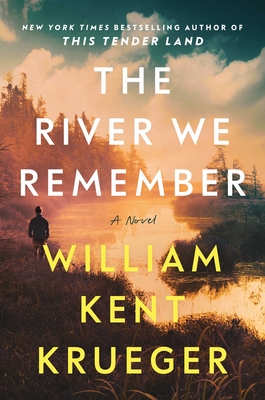 The River We Remember: A Novel
Publication Date:
September 5th, 2023
Usually Ships in 1 to 5 Days
Although I love the Cork O'Connor books, I think William Kent Krueger's absolute best work resides in his stand-alone titles. This book will reside in my heart for quite a time to come. Great message of truth, love, and forgiveness.
September 2023 Indie Next List
Description
In 1958, a small Minnesota town is rocked by a shocking murder, pouring fresh fuel on old grievances in this dazzling novel, an instant New York Times bestseller and "a work of art" (The Denver Post).
On Memorial Day in Jewel, Minnesota, the body of wealthy landowner Jimmy Quinn is found floating in the Alabaster River, dead from a shotgun blast. The investigation falls to Sheriff Brody Dern, a highly decorated war hero who still carries the physical and emotional scars from his military service. Even before Dern has the results of the autopsy, vicious rumors begin to circulate that the killer must be Noah Bluestone, a Native American WWII veteran who has recently returned to Jewel with a Japanese wife. As suspicions and accusations mount and the town teeters on the edge of more violence, Dern struggles not only to find the truth of Quinn's murder but also put to rest the demons from his own past.
Caught up in the torrent of anger that sweeps through Jewel are a war widow and her adolescent son, the intrepid publisher of the local newspaper, an aging deputy, and a crusading female lawyer, all of whom struggle with their own tragic histories and harbor secrets that Quinn's death threatens to expose.
Both a complex, spellbinding mystery and a masterful portrait of mid-century American life that is "a novel to cherish" (Star Tribune, Minneapolis), The River We Remember offers an unflinching look at the wounds left by the wars we fight abroad and at home, a moving exploration of the ways in which we seek to heal, and a testament to the enduring power of the stories we tell about the places we call home.
Praise for The River We Remember: A Novel
"[Krueger] is a fine storyteller, but it is his understanding of his characters and his sense of the past that make The River We Remember more than just a story. As novels go, this one is a work of art."—The Denver Post
"The River We Remember may be [Krueger's] magnum opus…deeply moving…intimate and epic in equal measure." —Star Tribune (Minneapolis)
"William Kent Krueger's page-turning, rewarding mystery The River We Remember is a superb exploration of the prejudices and complexities of post-World War II America." —Bookpage (starred review)
"Absorbing. . . combines nostalgic settings with depictions of the lingering hardships and traumas of war and the home front . . . in the decade after WWII." —Booklist (starred review)
"Tender, evocative." —Shelf Awareness
"Krueger's graceful prose coupled with his ability to delve deep into his characters' inner lives makes The River We Remember a stand-out in a career of excellent novels…[The novel] ebbs and flows to a stunning ending that also is life affirming. This is a story not easily forgotten." —Sun Sentinel
"Irresistible…Book clubs, here's your next pick. Find The River We Remember, take it home and shut the door." —Macro Eagle
"Historical fiction that resonates with our time makes for a great reading experience—especially when it's done in the literary style of rich, careful language; realistic evocation of place; and deep exploration into character. William Kent Krueger has delivered just this combination in his latest standalone novel, The River We Remember." —New York Journal of Books