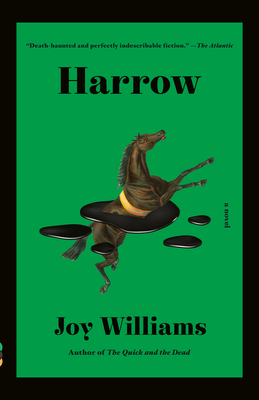 Harrow: A novel (Kirkus Prize) (Vintage Contemporaries)
Publication Date:
July 5th, 2022
Usually Ships in 1 to 5 Days
Description
In her first novel since the Pulitzer Prize–nominated The Quick and the Dead, the legendary writer takes us into an uncertain landscape after an environmental apocalypse, a world in which only the man-made has value, but some still wish to salvage the authentic.
 
"She practices ... camouflage, except that instead of adapting to its environment, Williams's imagination, by remaining true to itself, reveals new colorations in the ecology around her." —A.O. Scott, The New York Times Book Review

Khristen is a teenager who, her mother believes, was marked by greatness as a baby when she died for a moment and then came back to life. After Khristen's failing boarding school for gifted teens closes its doors, and she finds that her mother has disappeared, she ranges across the dead landscape and washes up at a "resort" on the shores of a mysterious, putrid lake the elderly residents there call "Big Girl."
 
In a rotting honeycomb of rooms, these old ones plot actions to punish corporations and people they consider culpable in the destruction of the final scraps of nature's beauty. What will Khristen and Jeffrey, the precocious ten-year-old boy she meets there, learn from this "gabby seditious lot, in the worst of health but with kamikaze hearts, an army of the aged and ill, determined to refresh, through crackpot violence, a plundered earth"?
 
Rivetingly strange and beautiful, and delivered with Williams's searing, deadpan wit, Harrow is their intertwined tale of paradise lost and of their reasons—against all reasonableness—to try and recover something of it.
Praise for Harrow: A novel (Kirkus Prize) (Vintage Contemporaries)
ONE OF THE BEST BOOKS OF THE YEAR: The New Yorker, Wall Street Journal, Vogue, and more • PEN/JEAN STEIN BOOK AWARD FINALIST • Los Angeles Times Book Prize Finalist • Bollinger Everyman Wodehouse Prize for Comic Fiction Finalist
"A magnificent and moving novel [that excavates] the middle distance between silence and experience . . . Harrow is a piece of writing in the vein of Samuel Beckett or Franz Kafka, its humor weaponized by rage." —David L. Ulin, Los Angeles Times
"Death-haunted and perfectly indescribable fiction . . . To read Williams is to look into the abyss . . . [She] remains our great prophet of nothingness." —Anthony Domestico, The Atlantic
 
"The ridiculous, pigheaded, bemused, endlessly distracted and continuously self-sabotaging state of the future is the subject of this wonderfully goading satire . . . A blackly comic portrait of futility . . . This is sarcasm of a high, artistic order, reminiscent of no one quite so much as William Gaddis." —Sam Sacks, The Wall Street Journal
"Elegantly deranged . . . A hypnotizing novel, funny in places and chilling in others, filled with wacky and tragic characters, that unspools the absurdity in just one of our many very possible bad futures." —Emily Temple, Literary Hub
"Williams's tone achiev[es] a new, perfectly hostile register . . . [Her] vision of an annihilated earth seems to have flown from the brain of Francisco Goya . . . As the novel continues, it plumbs ever-deeper zones of dystopian weirdness . . . She practices a kind of hallucinogenic realism, which takes at face value the psychological flights of characters deranged by loss . . . Williams has long written to the side of conventional English, pursuing a form that feels more commensurate with actual experience—with the terror, comedy, and mystery of moving through the world." —Katy Waldman, The New Yorker
"Williams is a writer for our times: both visionary and caustic, knowing yet also full of wonder. Harrow's short, dense pages unfold into a world of Kafkaesque distortion, its sharp wit and cruelty pierced with dreamlike language and imagery, and moments of almost unbearable poignancy. As the book draws to its dark conclusion, a hint of something miraculous, borne out from its opening chapter, flutters over the final paragraphs. In Williams's shattered world, destruction appears almost like the possibility of renewal." —Catherine Taylor, The Financial Times
"Harrow belongs at the front of the pack of recent climate fiction . . . A crabby, craggy, comfortless, arid, erudite, obtuse, perfect novel, a singular entry in a singular body of work by an artist of uncompromised originality and vision . . . To read this novel is to know and to be known (Galatians 4:9) by a profound and comfortless alterity, to encounter the cosmic otherness at the very core of the self. What else do you want me to tell you? As I've said, it's also funny. I really did laugh a lot. Five stars." —Justin Taylor, Bookforum
"Williams's voice is unique and spectacular. She describes things in ways you never knew you needed to hear." —Erin Lyndal Martin, BookBrowse
"Who better than Williams to capture pure-hearted but absurd efforts to retrieve paradise lost?" —The Millions
"Balancing creeping despair with mordant humor and piquant strangeness . . . Williams asks if hope and compassion, reason and responsibility can survive once the wonders of wild and flourishing nature have been utterly destroyed. Brilliantly and exquisitely shrewd and unnerving." —Donna Seaman, Booklist (starred review)
"An enigmatic, elegant meditation on the end of civilization—if end it truly is . . . As the clock ticks away, Williams seeds her story with allusions to Kafka, bits of Greek mythology, philosophical notes on the nature of tragedy, and gemlike description, and all along with subtly sardonic humor . . . A memorable return for renowned storyteller Williams after a lengthy absence from long form fiction." —Kirkus Reviews (starred review)