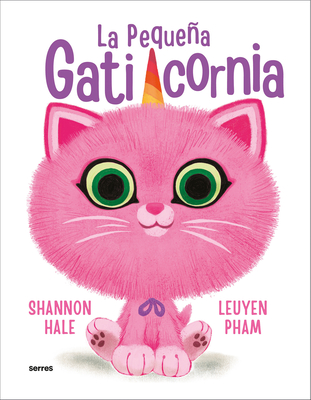 La pequeña gaticornia / Itty-Bitty Kitty-Corn (PEQUEÑA GATICORNIA, LA #1)
Publication Date:
May 23rd, 2023
Description
¡Un bestseller del New York Times!
"Itty-Bitty Kitty-Corn tiene un gran corazón." —New York Times
 
Del dúo con gran éxito de ventas, Shannon Hale y LeUyen Pham, llega una encantadora historia de gatitos y unicornios que celebra la magia de la amistad, ¡y de ser exactamente quien tú quieres ser!
 
Kitty cree que es un unicornio.
 
¡Se siente tan perfectamente unicornio! ¡Relincho! dice Kitty.
 
Pero cuando Unicorn se aparece con su gran esplendor, luciendo su cola majestuosa y relinchando con fuerza, Kitty se siente del tamaño de una bola de pelusa.
 
¿Podrá esta pareja poco convencional acepar quiénes son y realmente entenderse el uno al otro?
 
En su primer libro ilustrado juntos, el fantástico duo de Shannon Hale y LeUyen Pham unió sus cuernos para crear la historia más conmovedora, enternecedora y perfectamente unicorniana que uno se pueda imaginar.
ENGLISH DESCRIPTION
A New York Times bestseller!
"Itty-Bitty Kitty-Corn has a big heart." —New York Times
 
From bestselling superstar duo Shannon Hale and LeUyen Pham comes a delightful kitty and unicorn story that celebrates the magic of friendship—and being exactly who you want to be!
 
Kitty thinks she might be a unicorn.
 
She feels so perfectly unicorn-y! "Neigh!" says Kitty.
 
But when Unicorn clop clop clops over, sweeping his magnificent tail and neighing a mighty neigh, Kitty feels no bigger than a ball of lint.
 
Can this unlikely pair embrace who they are, and truly see one another?
 
In their first picture book together, the magical, bestselling team of Shannon Hale and LeUyen Pham put their horns together for the most heart-bursting, tail-twitching, fuzzy-feeling, perfectly unicorn-y story imaginable.