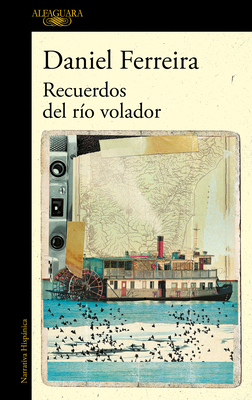 Recuerdos del río volador / Memories of the Flying River (MAPA DE LAS LENGUAS)
Publication Date:
October 31st, 2023
Usually Ships in 1 to 5 Days
Description
«La narración polifónica de Daniel Ferreira es tan bella como el mundo que recupera para nosotros, y tan impactante como su destrucción». Margarita Valencia

En una época en que la fotografía llegó para atajar el tiempo y los ríos de petróleo manaban como un milagro oscuro de la tierra, Alejandro Plata, un inspector de obras férreas, desaparece cerca del puerto del Cacique. Su hermano y su madre lo buscan en distintos tiempos. Su amante lo aguarda por años.
Y, en el trasegar de la búsqueda y a la espera del reencuentro, desembarcan en Colombia el progreso y la explotación petrolera, que no solo violenta las aguas y las tierras, sino que suma desigualdad e indignación al caos social del país.
En esta extraordinaria novela polifónica, un viaje alucinante por los rincones de Colombia, Daniel Ferreira nos empuja a descifrar este lugar y su tragedia de hijos desaparecidos, y nos prueba que lo poderoso y permanente es la naturaleza, y lo fugaz y frágil es lo humano.
«El brillante Ferreira, capaz de emprender odiseas narrativas que nadie más podría imaginar, ha hallado una pieza perdida de la literatura colombiana: gracias a esta bellísima e irrepetible búsqueda por una vorágine de cartas, infamias históricas y ejércitos salvajes, es claro que vivir aquí ha sido una trama policiaca». -Ricardo Silva Romero
ENGLISH DESCRIPTION
"Daniel Ferreira's contrapuntal narrative is as gorgeous as the past he recreates for us and as devastating as its destruction."- Margarita Valencia
 
In an era when the arrival of photography offers the unprecedented ability to freeze time and rivers of petroleum gush from the earth like black gold, Alejandro Plata, a railroad inspector, disappears near the port of Cacique, Colombia [now part of Panama]. His mother and brother never give up the search, and his lover waits faithfully for his return.
 
As they keep their vigil, progress comes to Colombia in the form of the oil industry, ravaging the environment and exacerbating inequality and unrest.  
 
In this masterful novel, a spellbinding journey to the most remote corners of Colombia, Daniel Ferreira immerses us in an extraordinary time and place and the tragedy of its disappeared children, driving home the power and permanency of nature and the fleetingness and fragility of human life.
 
"The brilliant Ferreira, capable of narrative odysseys that no one else could even imagine, has discovered a missing piece of Colombian literature, a detective story that plays out as a breathtaking and unique journey through a maelstrom of letters, infamies and military brutality." -Ricardo Silva Romero