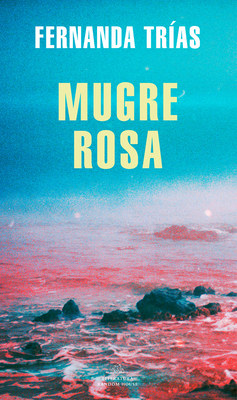 Mugre Rosa / Filthy Rose (MAPA DE LAS LENGUAS)
Publication Date:
August 24th, 2021
Publisher:
Literatura Random House
Description
Premio Sor Juana Inés de la Cruz 2021
Uno de los mejores libros en español del 2020 del New York Times

Con una prosa inquietante y rica en hallazgos poéticos, construye un universo que descubre la enorme belleza y el inmenso dolor que hay en la fragilidad de la vida y las relaciones.
En una ciudad portuaria asolada por una plaga misteriosa, una mujer intenta descifrar por qué su mundo se desmorona. No es sólo el acecho de la enfermedad y la muerte, las algas y los vientos pestíferos, los amasijos rosáceos que son ya lo único que se puede comer, sino el colapso de todos sus vínculos afectivos, la incertidumbre, la eclosión de una soledad radical.
ENGLISH DESCRIPTION
Winner of the Sor Juana Inés de la Cruz Award 2021
One of the best Spanish Books of 2020 by The New York Times
With an unsettling prose, rich in poetic findings, Trías creates a whole universe to discover the immense beauty and insurmountable pain we find in the frailty of life and relationships.
In a port city ravaged by a mysterious plague, a woman struggles to understand why her world is falling apart. It is not just sickness and death lurking, the algae and the pestiferous winds, the pink mashes that are the only things left to eat, but the crumbling of all her emotional attachments, the uncertainty, the dawn of radical loneliness.

Praise for Mugre Rosa / Filthy Rose (MAPA DE LAS LENGUAS)
La crítica ha dicho...

«Mugre rosa es una metáfora poderosísima de un mundo afectivo en crisis, donde todo está a punto de hundirse, aunque sostenido todavía por los hilos débiles de la memoria, la ternura, la solidaridad y el esfuerzo para llegar a un lugar donde la vida sea otra cosa. El lenguaje está cargado de aliento poético, y al mismo tiempo es concreto, sabiamente apoyado en los detalles. La lectura de esta novela singular resulta a la vez estimulante y perturbadora, y después de cerrarla sus imágenes seguirán persiguiéndonos por mucho tiempo, con su carga de belleza y melancolía. Realmente extraordinaria.» -Piedad Bonnett
«A mitad de camino entre una distopía clásica como 1984 o Fahrenheit 451 y una de las magníficas novelas de catástrofes de J.G. Ballard como El mundo sumergido o La sequía, Mugre rosa cuenta la historia de una mujer y su soledad, de un cataclismo ecológico y un mundo arruinado, de la maternidad, el hambre y el silencio. Con una sutil ingeniería de capas y mecanismos, pero siempre intensa y evocativa, esta obra atraviesa los géneros (ciencia ficción, distopía, ecocatástrofe) y se instala en un territorio único, al borde del horror pero sin sumergirse en ese abismo: un espacio desolador pero no del todo libre de esperanza. Fernanda Trías ha creado un espejo en el que se mira este tiempo tan extraño que nos tocó vivir, y nos ha regalado a sus lectores de siempre la mejor de sus novelas.» -Ramiro Sanchiz
«En Mugre rosa, toda la exploración vital y literaria de esta escritora impresionante se radicaliza. La mirada de Trías, su escritura sosegada y desasosegante, poética y precisa, va abriendo grietas –escapes- por todos lados: en el corazón de sus criaturas, en las relaciones de amor, en el mundo dañado.» -Giuseppe Caputo
«Nadie escribe como Fernanda Trías. Leerla es como asistir a una revelación o a un desnudamiento. Esa revelación se va ofreciendo de manera gradual e irresistible, frase por frase, y cuando querés acordar eras vos al que estaban desnudando. A eso hay que estar dispuesto cuando uno se acerca a esta narradora pura.» -Daniel Mella
«Si deseaste o temiste ser huérfano —olvida a tus padres, piensa en el mundo que se descompone enfrente tuyo, en el tiempo que hace años se detuvo, en la esperanza que se escapa— no lo dudes: lee, métete, habita Mugre rosa. Te prometo que cuando hayas cerrado esta novela, cuando empieces a recordar sus escenarios, su clima, sus sonidos y a sus protagonistas, sentirás el peso del vacío, la soledad y el silencio que deja la orfandad más cruel de todas.» -Emiliano Monge
«Fernanda Trías es una especie de secreto a voces. (…) Es intensa, certera, concisa, visual.» -María Esther Burgueño
«Los dramas de los personajes de Trías son también dramas de un lenguaje que expresa, con la cadencia de un estilo que encontró su voz desde el primer libro, el lado agónico de seres confinados en el abismo de su interioridad.» -Alicia Torres
«Fernanda Trías explora la vida cotidiana o ese dolor extraño de la pérdida desde una mirada que irradia belleza. Una belleza que alumbra oscuridades pero que, las más de las veces, nos deja incómodos, expectantes, sin saber qué hacer.» -María José Navia
«He ahí su destreza: narrar lo aparentemente inenarrable, las semillas del dolor, la temblorosa hazaña que es el apego a la vida.» -Magela Baudoin y Giovanna Rivero
«Fernanda Trías corta las frases a navaja, inclinando ligeramente la hoja sobre las palabras, para llegar al tuétano mismo del lenguaje.» -La voz de Galicia
Leer menos