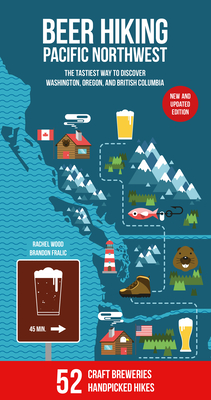 Beer Hiking Pacific Northwest 2nd Edition: The Tastiest Way to Discover Washington, Oregon and British Columbia
Publication Date:
September 27th, 2022
Usually Ships in 1 to 5 Days
Description
A Pacific Northwest Bookseller Association Bestseller

The new and updated second edition of the Pacific Northwest's bestselling guide to hikes and breweries.
Beer lovers and hiking enthusiasts, these 52 Pacific Northwest hikes are for you Each carefully-selected hike leads you through stunning scenery, and ends near a brewery or a brewpub--where a local craft beer awaits This full-color guidebook features the best one to six-hour beer hikes in Washington, Oregon, and British Columbia. Each trail description includes details on access, difficulty, duration, points of interest, and also, at trail's end, a recommended beer: its appearance and taste, as well as an inside look behind the brewing.