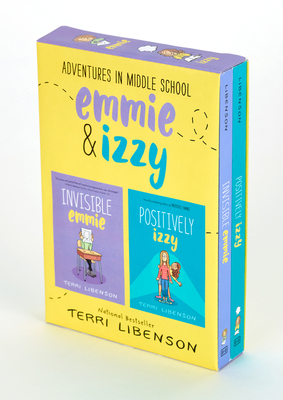 Adventures in Middle School 2-Book Box Set: Invisible Emmie and Positively Izzy (Emmie & Friends)
Publication Date:
October 23rd, 2018
Description
Two full-color illustrated graphic novels—Invisible Emmie and Positively Izzy—from award-winning and bestselling author and cartoonist Terri Libenson! A great gift for the middle school graphic novel fan in your life.
"Clever, funny work by a great cartoonist."—Stephan Pastis, author of Timmy Failure
"Plenty of laughs and tons of heart. Unforgettable!"—Lincoln Peirce, author of Big Nate
Crushes. Humiliation. Drama. MIDDLE SCHOOL.
Invisible Emmie is the story of quiet, shy, artistic Emmie and popular, outgoing, athletic Katie, and how their lives unexpectedly intersect one day, when an embarrassing note falls into the wrong hands. . . .
In Positively Izzy, we meet Bri, the brain, and Izzy, the dreamer. On the day of the school talent show, the girls' lives converge in ways more dramatic than either of them could have imagined.
Plus don't miss Terri Libenson's other popular graphic novels, including:
Just Jaime
Becoming Brianna
Truly Tyler
Remarkably Ruby
Surprisingly Sarah