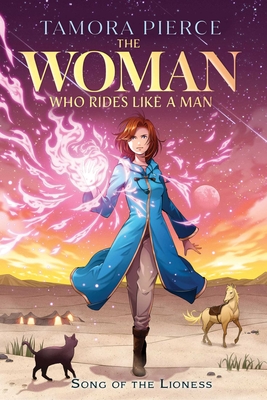 The Woman Who Rides Like a Man (Song of the Lioness #3)
Publication Date:
September 26th, 2023
Publisher:
Atheneum Books for Young Readers
Usually Ships in 1 to 5 Days
Description
Newly knighted, Alanna of Trebond seeks adventure in the vast desert at the edge of Tortall in this third book in Tamora Pierce's Margaret A. Edwards Award–winning young adult series—now with a new look!
After achieving knighthood, Alanna leaves the capital city to explore the desert near the kingdom's borders. When the local Bazhir people discover her, they charge her with trespassing and sentence her to a duel to the death. But when Alanna wins, she's inducted into the tribe—and soon after, she becomes the tribe's first female shaman.
Still, dire challenges lie ahead. Alanna must convince the Bazhir to change their ancient customs for their sake and for the sake of all Tortall.
Praise for The Woman Who Rides Like a Man (Song of the Lioness #3)
*Margaret A. Edwards Award Winner*
"Tamora Pierce's books shaped me not only as a young writer but also as a young woman. She is a pillar, an icon, and an inspiration."
— Sarah J. Maas, #1 New York Times bestselling author
"Tamora Pierce didn't just blaze a trail. Her heroines cut a swath through the fantasy world with wit, strength, and savvy. Her stories still lead the vanguard today. Pierce is the real lioness, and we're all just running to keep pace."
— Leigh Bardugo, #1 New York Times bestselling author
"Tamora Pierce creates epic worlds populated by girls and women of bravery, heart, and strength. Her work inspired a generation of writers and continues to inspire us."
— Holly Black, #1 New York Times bestselling author
"Few authors can slay so effectively with a single sentence—I mean fist-in-the-air, shouting-at-my-book slay—as Tamora Pierce. All these years later, I still draw strength from her words."
— Marie Lu, #1 New York Times bestselling author
"Tamora Pierce is gloriously unafraid to give her readers joy and laughter along with adventure and struggle, to let us love her characters wholeheartedly and find the best of ourselves in them."
— Naomi Novik, New York Times bestselling author
"It's impossible to overstate Tamora Pierce's impact on children's literature. Her tough, wise, and wonderful heroines have inspired generations of readers."
— Rae Carson, New York Times bestselling author
"Tamora Pierce's writing is like water from the swiftest, most refreshingly clear, invigorating, and revitalizing river."
— Garth Nix, New York Times bestselling author
"Tamora Pierce is a trailblazer for so many fantasy writers, hacking through the old tropes with her narrative machete and showing us that girl-centered adventures are not just possible but amazing."
— Rachel Hartman, New York Times bestselling author